Residents of Port Kaituma in the North West District are frustrated over the damage to their crops wreaked by cows that are allowed to stray all over the community and graze at will.
The residents told Stabroek News that there were an estimated 200 cows, some 90% of which are unbranded, that have caused and continue to cause damage to private property.
Chrisna David is one such frustrated resident. He said he recently suffered in excess of $500,000 worth of damage to sections of his farm where he plants cash crops.
"No farming can be done here with these animals out here like this. My yard is well fenced but yet still they burst through it and attack my plants," he related.
He said there have been several occasions where he got up from bed in the wee hours of the morning to find cows in his yard.
On these occasions, the police were called in. However, due to the absence of an animal pound in the sub district, there is very little that the police can do, he added.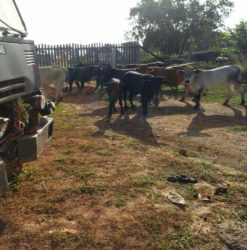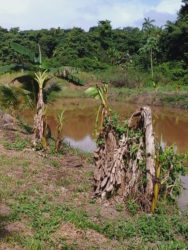 According to David, the issue stems from persons in the area wanting to rear large herds of cattle without the necessary space to do so and as a result, the animals are left to roam freely around the community, causing damage.
"They have people minding cows but don't have nowhere to mind them. Sometimes when you wake up, you find garbage scattered here, fence and pipes broken and sometimes it's so bad that you can't even leave clothes to soak outside at night because they try to eat the clothes too," the man added.
But apart from the damage to his personal property, David also expressed concern over the presence of the cows on the very active Port Kaituma Airstrip.
Explaining further, David said there has been instances in the past where planes attempting to land on the airstrip would have to delay landing just to avoid possibly hitting the animals.
Pastor Elroy, another resident of the area, told Stabroek News that though the problem has been highlighted countless times over the years, something is yet to be done to address the issue.
Further, when the damage is done by the animals, the cattle owners do not offer any form of compensation to residents, the man explained.
"Nobody comes forward to own them. Just recently, they went into my farm and pull out all my plantain stock and break up my fence," he added.
Attempts to establish contact with the Chairperson of the Neighbourhood Democratic Council Margret Lambert for a comment on the matter were unsuccessful as this newspaper was informed that she was not in the country.
Nonetheless, Stabroek News was made to understand that efforts have been made to secure a plot of land that can be used as grazing grounds for the animals.
However, in order to do so, those who rear cattle are expected to work together to have it properly established.
Unfortunately, this has not yet seen any forward movement, residents said.
Around the Web