With the 2017 budget to be presented today, a major announcement is likely on the way forward for sugar with GuySuCo Chairman Dr Clive Thomas telling Stabroek News on Friday of a possible rationalisation of the industry to four estates.
Thomas said the board hopes to rationalise to four estates and that two local and very experienced consultants, have found that the Rose Hall estate in Berbice is in a pretty bad shape.
As such, they are thinking about marginalising Rose Hall or they would "certainly have to diversify it."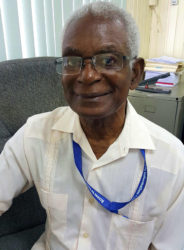 The consultants, who have worked out of Guyana, reported to the board last Tuesday that the "state of the factory and the attitude are very bad. They were bemoaning it…"
According to Thomas, they have "found problems in every area; the factory, agriculture, relations, management and they are not confident about reports on what is happening there."
When asked how the estate has been performing in terms of production, he said the revised target was 11,454 tonnes up to the second week of November but Rose Hall is ahead with a production figure of 11,700 tonnes.
Rose Hall has over 2400 workers  and many have expressed fears about being displaced amid reports of rationalisation.
A worker for over 30 years had told SN he and his colleagues feel threatened about "job security because there are no job opportunities in the area".
To this, Thomas responded that they are hoping to provide some jobs through the diversification plans and are also willing to provide the workers with land, if they so desire.
He said: "The board is recommending that if we don't rationalise, we might as well give up the estates because they do not see any progress."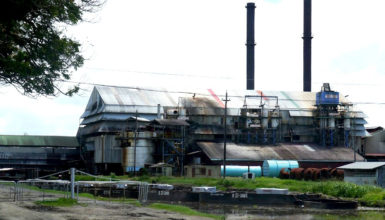 He added that that is the "essence of our recommendation; you have to diversify and rationalise the industry because without that it would just be like a never-ending hole to which money is being poured with no possible returns. But we have to get the industry back to some level of profitability. So it can sustain itself without relying on the public treasury."
He emphasized that: "No government would continue to give billions of dollars to sugar mainly to subsidise it because the subsidy ends up in the hands of those who consume the sugar overseas; we're subsidising European consumers by selling the sugar at a lower price than we pay to produce it. We are not selling it locally…"
In an article in SN on November 13, Thomas said that other estates would soon be diversified and "the Blairmont, Albion and we have already committed to Uitvlugt… as well as Enmore which was already merged with the East Demerara Estate" would "definitely be retained."
It was announced in January this year that sugar cultivation would stop at Wales at the end of this year. The signs are that Rose Hall and Skeldon could also be taken out of sugar production.
Thomas said that GuySuCo has a range of options for sugar at the beleaguered Skeldon Estate and that "it may be a buyer or an investor. People may want to buy it or they may want to guarantee sugar supplies and therefore invest with us with the technology and helping with the plant and guarantee production."
The US$200m Skeldon modernisation project under the PPP/C government has been disastrous for the industry.
The Wartsila Company conducted a recent study on the Skeldon estate which showed that the "state of the factory and the cost of repairs are beyond what GuySuCo can afford."
It also said that the condition of the estate is "deplorable and would need quite a few million US dollars to bring it up to speed."
"What is worse," Thomas had said, "is that the labour cost that they entail for producing the cane and the sugar is less than the revenue received from selling it."
He told SN that Wartsila was interested in processing the bagasse for a Guyana Power & Light-related company.
The study reflected the factory, he said, because that is where they have to process the cane and generate the power.
He said the board was looking for a means to make it a "profitable estate" and based on the recommendations it made, it was hoping to get a response from government before the budget, which would be presented in parliament today.
Foreign exchange
With GuySuCo moving ahead with its diversification plans, there have been concerns about foreign exchange earnings from sugar which is pivotal to the country but Thomas said it would be preserved in the protected markets.
Thomas said that GuySuCo loses foreign exchange only from the bulk sugar sales in the open market.
They prefer not to produce bulk sugar because they have to sell it "mainly at the open market and more or less the prevailing market prices are lower."
"If we can get protected markets, we will continue to sell the bulk sugar and we have protected markets which covers the cost in the USA, Caricom and in Guyana."
He said too: "We want to come out of bulk sugar because to sell it as it is now without some level of protection, is not profitable. But if we get an investor who wants the bulk sugar because for example, let's say he has a refinery…, we might get engaged with them and ask them to try and refurbish the structure of the factory and all of the things that we can't afford."
Thomas pointed out that, "Since Britain has left the European Union (EU), there is potential for us to get some protected sales coming out of Brexit. We don't know what would happen with Brexit and what opportunity this might create for us to find further markets in Britain."
The agreement that Guyana now has is with Cariforum and the EU while "Britain has to renegotiate on sugar arrangements."
According to Thomas, "We also have the fact that traditionally, we've dealt with sugar
companies in Britain. We will also be looking at stimulating some interest from them that they would seek to invest in us so this will also flow foreign exchange."
Besides, he said, this country would save foreign exchange through its diversification ventures and that items that would normally be imported would be produced locally.
The corporation would be establishing a processing plant at Wales with a dairy factory for milk and milk products.
"We are hoping to substitute the imports with domestic products in order to save foreign exchange. Items like orange juice or milk products would not have to be imported so we save the foreign exchange," he pointed out.
Scepticism has been raised about the dairy venture as GuySuCo had tried this before at Versailles, West Demerara and it failed during the 1980s along with other diversification ventures.
Trial outside of cane land
At a press conference on Friday, the sugar unions, GAWU, NAACIE and GLU  highlighted to the media that in the Economic and Finance Report of the Sugar Commission of Inquiry (CoI) authored by GuySuCo Chairman  Thomas, he had explicitly recommended that the other crops be first pursued outside of GuySuCo lands.
When asked about that on Friday, Thomas responded that he had "made recommendation that they should start the trial outside of cane land but the board has decided otherwise and I don't have a problem with that."
He added: "I was just trying to minimize the risk to GuySuCo for doing the diversification on their own land that they could potentially put back in sugar if things have changed. But the board just preferred to use some of the acreage for these trial runs."
He noted too that right now "there are not large acreages that are being used up" for the diversification ventures.
The unions had told the media too that, "The Agricultural Report of the CoI had also pointed out that the cultivation of other crops will not be able to absorb the displaced labour from the scaling down of cane growing."
Thomas noted that it is indeed not possible "to find jobs for all of the workers so that is why we offered them the land so they can participate in agriculture. That is where we want to continue to absorb all those who want to continue being in agriculture."
He also pointed out: "We have a labour shortage too generally…. A lot of people are not coming to work. We had a project we inherited from the CDB [Caribbean Development Bank], which was looking to mechanise Wales and Uitvlugt."
The feasibility study for the project was done in November 2014 under the previous government.
"They were supposed to sign a deal before they lost the election. We recommended and wrote them to put it on hold because of its severe labour loss…" he said.
Around the Web