Minister of Public Security Khemraj Ramjattan yesterday signed a Memorandum of Understanding (MoU) for the EU-funded Seaport Cooperation Project (SEACOP) which aims at maritime trafficking and particularly the cocaine trade.
The two-year project, budgeted at €3 million will train and equip inter-agency units to identify, search and interdict all forms of maritime trafficking. Guyana has now joined 26 countries in Africa, Latin America and the Caribbean, which have signed MoUs for the implementation of SEACOP. SEACOP is executed on behalf of the European Union (EU) by the Spanish international cooperation agency Fundación Internacional y para Iberoamérica de Administración y Políticas Públicas (FIIAPP).
Speaking at the signing ceremony at his Brickdam office, Ramjattan said he was very grateful to be able to collaborate with SEACOP to ensure that there is further training of police, customs and coastguard officers. "This comes at a time when I really feel that we should be collaborating more in view of the tremendous disadvantage we are at in relation to narcotics, trafficking, transnational crimes and all of those and a time when our resources are diminishing," he said. Ramjattan said that the training will enhance the ministry's capacity in the fight against drugs and boost the master strategy for drugs that has been documented and will be ready for launch on December 16.
"…But to have personnel in the various departments having training, will also mean that the strategy document that talks about interdiction, that chapter will especially see some quality personnel, by virtue of the training," he added.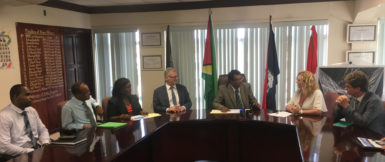 Ramjattan highlighted that Guyana has been getting tremendous support from various international agencies. "We are very, very fortunate to have so many friends coming to our assistance in our time of need," he said.
He explained that while the statistics show that crime is down, it is still too high and the set of measures, including the SEACOP programme, will help to bring the figures down.
With reference to the authenticity of the crime statistics that are presented by the police force, Ramjattan reasserted that they are accurate. "It is not as if people are not reporting crime, quite frankly people are reporting more now than before because they feel a renewed confidence in the police force and so those naysayers who are giving the impression that we are manufacturing the stats, that's not true. This ministry and all those involved in law enforcement are not going to do that," Ramjattan said. He added that one of the reasons for the renewed confidence in the police force was the increases in arrests and crime solving.
"[There is] nothing I can do if people don't want to believe the statistics, absolutely nothing. But we want people to become more right thinking and accept it and not believe we are manufacturing it," he added.
Referring to training, he noted that it will improve the professionalism and ethics of officers, and added that people should speak out against corrupt officers, since to remain silent was to condone such behaviour. Referencing the murder of a carpenter in Number 70 Village, Corentyne, where it has been alleged that two investigators were trying to cover up the crime, Ramjattan said that the force and the ministry will do everything possible to scrutinize investigators and investigations to ensure that corruption was dealt with. He also adverted to recent cold cases that the police have successfully reopened.
Regional Coordinator for SEACOP Karen Clarke said she was delighted that Guyana has agreed to participate and was looking forward to the training course in March 2017.
EU Ambassador Jernej Videtic and High Commissioner of the United Kingdom to Guyana Greg Quinn also made remarks.
The first SEACOP specialized training event in Guyana is set for March 6 to 10 March and will involve nine law enforcement officers from the Customs Anti-Narcotic Unit, the Guyana Police Force and the Guyana Defence Force Coastguard. The training will be conducted by experts from the UK Border Force Agency and will focus on delivering advanced search techniques for a range of vessels. This will establish a multi-agency Joint Maritime Control Unit (JMCU) in Guyana, dedicated to the search of vessels. In addition, the project will donate specialised equipment and search tools to the JMCU. A series of mentoring events will follow in subsequent years.
A second course is to be delivered jointly with Jamaican officers in late March 2017, in Jamaica. This course will be conducted by UK National Crime Agency maritime experts. It will be delivered to eight vetted law enforcement officers, four from Guyana and four from Jamaica.
This course will be focused on advanced maritime intelligence training, providing access to key international partners and will see the creation of a Maritime Intelligence Unit (MIU). Officers participating in this course will be invited to attend an annual mentoring event, attended by all MIU-trained teams participating in the project, with a view to promoting transregional working practices. An annual conference will also be convened to promote transregional networks.
The Seaport Cooperation Project which runs until December 2018 has a budget of €6 million and covers selected countries in Africa, Latin America and the Caribbean. Its first two phases, beginning in 2010, focused on West Africa, where it set up a network of JMCUs in strategic seaports. Intercepting drug and other illicit cargoes is a critical component of the Cocaine Route Programme, a series of interconnected programmes funded out of the EU Instrument Contributing to Stability and Peace. Noting that drug traffickers are continuously modifying their routes in response to law enforcement activity, the project, having established effective units in West Africa, is extending into Latin America and the Caribbean to reflect changes in trafficking routes.
Around the Web