As the US$45M MovieTowne complex gears for opening next year, demand for rental at its Turkeyen, East Coast of Demerara location has forced the company to seek additional lands for expansion.
"What we have found is that we have so much demand for space both from Guyana and Trinidad that we are seeking to have additional lands for possible expansion," Chairman of the Trinidad-based Dachin Group of Companies, Derek Chin told Stabroek News in an interview.
The cost estimate rose by more than US$20M since the project was first announced in 2011 and Chin attributed this to the demand for space and consequent changes in infrastructural and architectural design.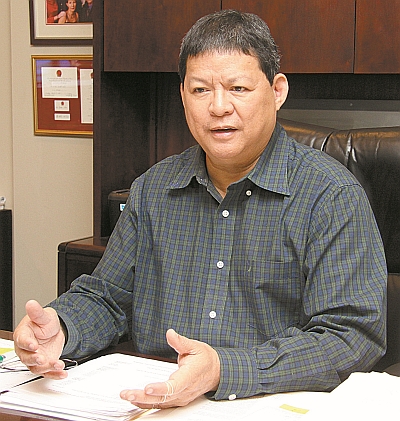 Chin, who is Guyanese by birth, informed that early next month he will lead a delegation which will be meeting with government here to begin exploratory talks on further expansion of the project, an event that he is excited about.
He explained that while the company is looking at a June 2017 opening, he understands that there may be unforeseen changes but that the company is endeavouring to meet its deadline.
China Harbour Engineering Company (CHEC) (T&T) Ltd is moving ahead with the construction of the MovieTowne Guyana complex, which when completed will see a 60,000 square foot complex set on ten acres of land. It will comprise eight multiplex "world class" cinemas coupled with 30 local, regional and international stores, a bank, area for dining and a parking space for over 700 vehicles.
Chin said corporate Trinidad has also expressed a lot of interest in procuring slots for companies like Wendy's, Paul Mark and First Citizens Bank (FCB).
The Caribbean business magnate explained that he chose Guyana for investment not only because it was his home country but that given the regional and even global economic changes, Guyana with its recent oil find seems poised for rapid development. "Guyana right now looks like the beacon in terms of investment and investment opportunities. Trinidad right now is suffering because of the oil crisis and other factors that has caused the slowdown. I see potential in Guyana and we are conscious of the country's tremendous investment potential," he said.
Guyanese businesses have already taken to negotiating for rental space and the Main Street Palm Court Restaurant and Club is negotiating to have a location also.
"In terms of concept we don't just offer a cinema experience we offer a complete entertainment experience and this is for everyone," Chin asserted.
"Persons knowing the standards we have and what this complex will bring have been asking about space. Your local Palm Court Club wants to be a tenant and that should add to all we will be offering. If they come with a different concept it adds to our variety because we will have so many businesses at the complex…oh my gosh persons have been flocking to get space and it why we saw the need to possibly expand but we are looking at the feasibility and all these things so it is too soon to say definitely yes or no," he added.
Chin explained that while international brands will have a presence here, priority will be given to locals. "I would have said and maintain that this must take place of pride among all Guyanese. This entertainment centre belongs to the people of this country, including many local progressive entrepreneurs so Guyana and Guyanese first is our strategy," he stated.
"After all, I am Guyanese and I have to treat my brothers and sisters right or is bacchanal," he added.
The Guyana Office for Investment, and this country's Minister of Business, Dominic Gaskin came in for high praise from Chin who pointed out that Go-Invest's head Owen Verwey and Gaskin have been proactive in communications with him about the investment here.
"We have had cooperation from government and they are interested in talking with us as we are with them. Owen Verwey from Go-Invest and the Minister of Business have been of great help. They have had talks with us, asked what it was that we wanted, what we were looking for, how they could be of assistance and all that sort of thing," Chin said.
Further, he added "We respect everyone, we keep a high standard, organized and well run corporation. We will respect the laws of the country and will abide by them. We see ourselves as helping build community and no one can point a finger and say that we are corrupt. We bring a clean investment that will aims to provide jobs for the people of Guyana and in so doing help to tackle unemployment and build the country."
And while the Giftland Mall's Caribbean Cinemas and the Princess Movie Theatre currently offer one of the services MovieTowne will provide, Chin said that his company was not afraid of the competition.
"We are not afraid of competition at all. We are proud of our product and we know what we have and it's the customers who will judge so we are not in the least bit worried. We have something for everyone and we leave it up to the man in the street to determine for him or her what is it they want. We will provide stellar service and quality that cannot be compared so we are not afraid at all at all.
"The prices will be competitive and comparable of what is paid at movie theatres all over. We will not move from that because we have to take into context the cost of living in Guyana and the earning power of the average working man and woman. Everyone wants to have some type of entertainment and it is that we will offer more so than focusing on price, for us it is that experience and I can guarantee you that when persons would have experienced us, they will know what they want," he added.
Fond memories
And it is the indelible, fond memories of going to the Astor, Strand and Metropole cinemas here that also influenced Chin's overall investments in movie theatres.
Looking back on his childhood in Guyana, he asserted, "I have had some great memories of Guyana boy. I remember me dressing up to look like Elvis Presley, getting all dressed up and putting my hair in that style you know and going to see the Presley movie, it was Blue Hawaii…oh gosh that was my fun days."
Named after his uncle, Derek Phang, who represented Guyana at tennis tournaments, the MovieTowne Chairman was born to James Chin and Joy Phang in 1953 and the family grew up on Church Street which was a short distance from the popular cinemas in the capital.
Chin remembers riding his bicycle as he visited relatives, Joe Chin who owned a popular Travel Agency here and lived in Anira Street, Queenstown, and visiting other relatives and friends in the city.
"I remember Bookers and all the cinemas and clean canals and promenades, I love Guyana and that is why this investment is nostalgic for me…who would have thought that one day I would return to the country of my birth and redefine the entertainment scene with this MovieTowne world class project," he mused.
Around the Web