The woman whose hand was severed by her ex-boyfriend on Christmas Eve, at Number 70 Village, Corentyne, Berbice, along with her mother who was also chopped, will be spending New Year's in the Hospital.
Abdul Ali, the father of Bhartie Udo, 23, and husband of Amika Udo,42, the women who were severely chopped by Bhartie's ex-boyfriend, Shamar Mohammed Ally, yesterday told Stabroek News that his wife and child are still patients of the Georgetown Public Hospital (GPH).
Ali said that his next trip to the hospital, which is today, he will be to giving blood for his daughter, who is slated to undergo surgery on her left hand, which was severed during the attack. He explained that the doctors have informed him that he needs to donate blood, which will be needed for his daughter's operation.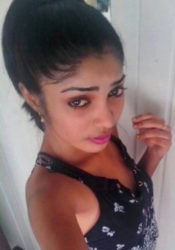 Abdul also explained that the doctors are not too keen on discharging his wife, since she is unable to sit up due to the blow she received to the back of her head. He said that both his wife and daughter are doing fine, but they and the rest of the family still live in fear, as the man responsible for the attack is still at large.
Ali said that he has heard reports that the man accused of the attack is hiding not too far from their home at Number 70 Village, and he has made a report to the police about where Ally may be hiding.
As previously reported, on Christmas Eve night, Bhartie's ex-boyfriend launched an attack on her with a cutlass, fracturing her right hand and severing her left hand, among other injuries. Her mother Amika was also chopped about her body while trying to save her daughter from the attacker. Both women were later transferred to the GPH where they remain as patients.
The Police at Springlands have since launched a manhunt for the attacker, who has gone into hiding.
Around the Web