According to the Chief City Engineer Colvern Venture, the city, in collaboration with the Ministry of Public Infrastructure (MPI), will be taking on the works to repair the sinkhole that appeared more than a week ago at the eastern end of the Seawall Road, near Carifesta Avenue.
One of the workers from the MPI explained that the sinkhole had appeared, after a galvanized pipe which was under the road, burst and started letting water under the road, resulting in a large depression in the road. The MPI has since dug deeper into the road, in order to access the pipe.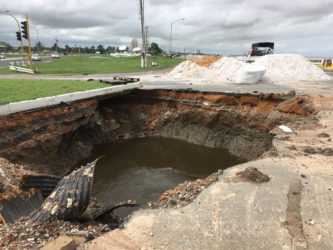 However, according to Venture, the city has since applied a temporary fix to the pipe to stop it from letting water into the road.
He added that because of the persistent rainfall, they have not been able to apply a permanent fix, since they would have to block off two culverts. If the city blocks the two culverts during the rainy season, then there is a high chance of the surrounding areas not being able to drain off water.
He added that they are looking to effect a permanent fix and completely seal the road by the end of January after the rain subsides.
The large sinkhole is currently exposed to the elements, and  MPI has placed metal barricades around it to divert traffic.
Around the Web