(Trinidad Express) There has been an alarming increase in the quantity of guns and ammunition seized by police this year compared with last year.
The T&T Police Service (TTPS) was given a performance target by the office of the Commissioner of Police to recover at least 690 illegal firearms by the end of the year.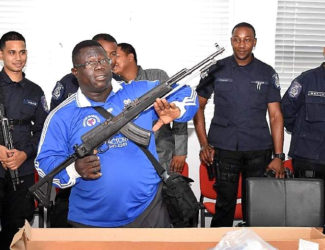 And with just over three months left, the organisation is well on its way to achieving this number, having recovered 545 illegal firearms.
In fact, this number represents an increase of 32 per cent from the previous year in terms of firearms, with the figure for the comparative period in 2015 totalling 450.
There is also a 253 per cent increase in the number of assorted ammunition seized, with the current figure standing at 16,671 rounds when compared with 6,575 rounds in 2015.
This was revealed on Thursday by ASP Vernly Gift du­ring the weekly news briefing, at the Police Administration building in Port of Spain. Gift credited these finds to the hard-working men and women of the Police Service who were working hand in hand with information provided from members of the public.
Around the Web