When Malinda Freitas found out she was pregnant eight months ago, never did she imagine that she would end up delivering twins, much less at 8,000 feet in the air.
What may seem like a script out of a movie to some, became reality on Monday when 33-year old Freitas, a resident of Mahdia, went into labour aboard a Roraima Airways Medivac which was destined for the city.
Speaking with Stabroek News from her hospital bed in the maternity ward of the Georgetown Public Hospital (GPH) yesterday, Freitas was all too pleased to share her exciting ordeal.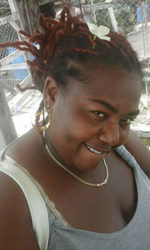 Detailing the series of events that led to her delivering mid-flight, she explained that it all began when she started experiencing excruciating abdominal pains on Sunday evening, which prompted her to visit the Mahdia hospital the following day.
Because she suffers from a history of hypertension, coupled with the unbearable pain she was experiencing, a decision was made to have her transferred to the GPH for further treatment. Thus, arrangements were made to have her flown out via a Roraima Airways medical excavation.
"They gave me a checkup and so on, but after I keep complaining that my belly hurting bad, the doctor called an emergency flight to take me to the city," she said.
Accompanied by medical staff from the hospital, Freitas was fortunate enough to have her primary prenatal doctor from Mahdia, who was in Georgetown at the time, fly in with the medivac to be a part of her delivery.
"The doctor who use to look after me when I was up there (Mahdia) came down on the same flight and collect me from Mahdia and come down back to town with me," she explained.
But even as the plane made its way to the capital city, Freitas said her pains increased.
When asked about her frame of mind while in the plane, the woman explained that the pain was so bad, she didn't have the time to be scared.  "I feel like I couldn't bear the pain anymore; the plane was so hot and I was just crying all the time," she said.
As the pain continued, Freitas said she related to the nurse a feeling that the baby was ready to "come out," although her due date, given as September 29, was more than a month away.
It was then, she said, that her doctor, whom she identified as Dr. Roland, took matters into his own hands.
"I feel like the baby come and I kept telling nurse that something coming. Is then the doctor ask for his gloves and made a check, only to discover that the baby was ready to come out," Freitas explained.
Prepared to deliver her child in the sky, Freitas related that the biggest surprise came when the nurse told her that she had been carrying twins; a boy and a girl.
"I didn't even know it was twins; when I push out the one, I thought it was the afterbirth coming out after but then the nurse, tell me I giving birth to twins," Freitas related.
What was even more amazing for her, she said, was the fact that the babies were delivered by means of a natural birth. Her first child was delivered via Caesarean Section.
Explaining her obliviousness to the fact that she had been carrying twins, Freitas stated an ultrasound that was done had indicated that there was only one foetus in her womb.
When asked about her first reaction to the news of having delivered twins, the now mother of three said, "I feel nice, when I finally realised that I push out all two babies."
But with the babies having been born prematurely, they remain patients of the neonatal care unit at the GPH, where Freitas goes to visit them when allowed.
Nevertheless, she remains thankful for having a successful delivery and would be patiently awaiting the moment that she is allowed to take her babies home to meet their other sibling, her four-year-old daughter Melena.
Asked if she had decided on names for the babies, Freitas was pleased to announce their selected names— Malik and Miracle.
Comments
Following an opposition request for an investigation into the award of the contract for the feasibility study and design for the new Demerara River crossing to LievenseCSO, the Ministry of Public Infrastructure last night said that the Dutch firm was selected after the initial procurement process was annulled and it sought out consultants worldwide.
Facing a cash crunch, the Guyana Sugar Corporation (GuySuCo) will be selling land to the Central Housing and Planning Authority (CH&PA), Minister of State Joseph Harmon announced yesterday, while noting that the corporation has sought a bailout to the tune of $2 billion.
Minister of Citizenship Winston Felix yesterday announced that priority will be given to children in evacuation efforts organized by the Guyana Government to assist Guyanese who remain on hurricane-affected islands, as there remains the risk of an epidemic in some cases.

A 59-year-old woman was yesterday sentenced to four years in prison and fined $6.5 million after she pleaded guilty to the possession of five pounds of cocaine, which she was trying to sneak on board a flight to New York.
At present the need for constitutional compliance trumps the need for constitutional reform in Guyana.