EL CAJON, Calif., (Reuters) – Protesters yelled "murder" and demanded yesterday a federal investigation into the fatal police shooting of an unarmed black man in Southern California, just as racially charged anger over two similar incidents during the past two weeks had begun to subside.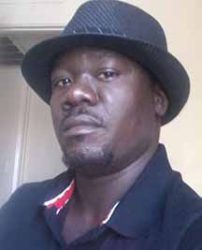 Tuesday's mid-afternoon shooting unfolded after two officers responded to several calls about a mentally unstable person walking in traffic and confronted the man behind a restaurant in the San Diego suburb of El Cajon, according to local police.
One policeman opened fire with his service pistol and his partner simultaneously fired a Taser stun gun when the man pulled an object from his pants pocket and took aim at them in a "shooting stance," according to police. No weapon from the man, however, was recovered from the scene, police said. The object he was said to be carrying was not specified.
Local activists and friends later identified the victim as Ugandan-born Alfred Olango, which Mayor Bill Wells confirmed on Wednesday. Friends and supporters said Olango, age 38, according to court records, was mentally ill and may have been suffering a seizure in the moments before his death.
Police said they obtained cellphone video of the shooting from a bystander, but authorities released only a still frame showing two officers pointing weapons at a man who was aiming an object at them.
In a separate video clip taken moments after the shooting and posted on social media, a woman who refers to herself as the victim's sister is heard crying in anguish, "Oh my God. You killed my brother. I just called for help and … you killed him."
Wells told a news conference that he had seen the footage obtained by police. He described it as "certainly enlightening," adding, "I don't believe that this is going to be a tremendously complicated process for people to figure out what happened."
"I saw a man who was distraught, a man who was acting in ways that looked like he was in great pain, and I saw him get gunned down and killed, and it broke my heart. If it was my son I would be devastated," Wells said.
Wells said all 120 officers on El Cajon's police force receive training from San Diego County's Psychiatric Emergency Response Teams, or PERT, programme, though no PERT-assigned officer was available for dispatch to Tuesday's call.
The shooting came days after two black men were killed by police under questionable circumstances in Charlotte, North Carolina, and Tulsa, Oklahoma, igniting demonstrations decrying racial bias by U.S. law enforcement.
The Charlotte shooting sparked a week of sometimes violent protests, prompting authorities there to impose a state of emergency and curfew.
Speaking to reporters on Wednesday, El Cajon Police Chief Jeff Davis appealed for calm. The predominantly white city is home to some 100,000 people, including many residents who are immigrants from the Middle East and Africa.
Around the Web