BRIDGETOWN, Barbados,  CMC – Legendary former West Indies captain Clive Lloyd has labelled the late international journalist Tony Cozier as "an iconic figure" and says the world has lost "a great man."
Cozier, hailed globally as the 'voice of West Indies cricket', passed away here yesterday at age 75 following a brief period in hospital.
Lloyd, who oversaw a halcyon era in West Indies cricket, said Cozier had made an outstanding contribution to the regional and international game.
"It is sad news to hear that the voice of West Indies cricket is gone," said Lloyd, whose book in the 1980s was co-written by Cozier.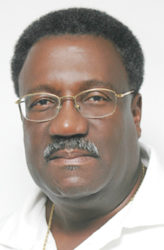 "Tony Cozier was an iconic figure, someone well respected throughout the sporting world, and someone who featured prominently across the landscape of the Caribbean."
Cozier started his career as a writer while a schoolboy at the Lodge School here and rose through the ranks to become one of the finest print, radio and television cricket journalists the world has seen.
With a vast knowledge on the game and its significance to Caribbean people, Cozier was also the foremost historian, covering all the major happenings in West Indies cricket – including the unprecedented period of dominance in the 1970s and 1980s at which Lloyd was the centre.
"He saw West Indies cricket grow and blossom and has been in all eras of our cricket," said Lloyd, the current chairman of West Indies selectors.
"In the 70s and 80s when we did extremely well, he was the voice and was the eyes through which people saw our game. He was the voice they listened to, his was the pen which wrote of our exploits."
The son of noted Barbadian journalist, Jimmy Cozier, Tony made his broadcast debut in 1965 on Australia's Test tour of the Caribbean and went on to work for nearly every major respected international media entity including the BBC, Channel Nine and Sky.
His son Craig – one of two children – is now a respected cricket television producer and only this week returned home from the Indian Premier League to be with his father.
Over the years, Cozier authored several books including 'The West Indies: 50 years of Test Cricket which was published in 1978.
Lloyd, a seminal figure who led West Indies in 74 of his 110 Tests, said Cozier had made a significant impact on the game.
"We didn't have too many other journalists travelling with us, so Tony covered the game and did it very well," Lloyd noted.
"I did my first book with him and it was a pleasure to be associated with him over the year. We have lost a great man. He left some wonderful memories with us and his voice will be remembered forever around the world."
Around the Web