In an effort to improve the quality of officiating, the Guyana Football Federation (GFF), in partnership with the International Federation of Association Football (FIFA), officially launched the Referee's Assistant Programme (RAP) yesterday.
The programme, which will last for five days, is an initiative that is used to improve the overall quality and better prepare officials for the demands of the sport. This is the eighth year of the event in Guyana.
Speaking at the National Racquet Centre in Woolford Avenue, GFF President Wayne Forde said the development of referees is an integral part of his executives plan.
According to Forde, too much emphasis has been placed "on the politics of the sport and that the executive committee will do all it can to bring the conversation to be about football.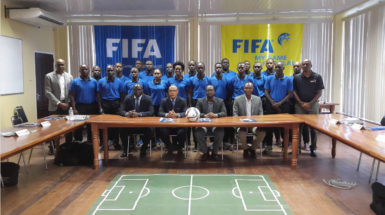 "This RAP is a clear indication that we are committed to bring football back to the community."
He said that despite the shortage of resources, the referees arm was  very important as it has an influence on the sport both on and off the field.
Peter Prendergast, FIFA Regional Development Officer/Technical Officer said Guyana was one of the first Member Associations to have the programme.
He said that its main purpose is to improve the standard of the officials so that it links well with the other sections of the discipline.
According to Prendergast, his presence here is to share and show methods and new approaches that will be used to improve the ability to manage the game, adding that the course will delve into the new changes within the rules and regulations.
He further said that the modern game is constantly improving and as such, "preparation is a key component to the success of the referees on the field".
Meanwhile Dion Innis, Head of the Guyana Football Referees Council (GFRC) said the current executive places referees in high regard, adding that the best days are still ahead for this aspect of the discipline.
He further challenged the officials to grasp and learn as much as possible during the period.
Around the Web