Guyana's national rugby team known as the Green Hornets will play Mexico this afternoon in the final of the Rugby Americas North (RAN) tournament in Mexico City.
The game gets underway at 3pm and a win for either team will enable them to continue their quest to qualify for the 2019 Rugby World Cup competition.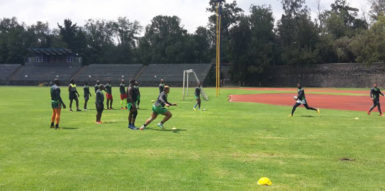 Today's RAN match has all the makings of a dream final but at the end of today's encounter, the dream of one nation to qualify for the Rugby World Cup will remain alive while the other team's dream would have ended. Originally scheduled for July 23, today's final was pushed back because the Mexicans were unable to find a suitable venue to host the game.
The Guyana Rugby Football Union (GRFU) team took the opportunity of the postponement to try and improve the fitness levels of the players because of Mexico's high altitude. They also brought in a coach from Argentina to work on areas of weakness of the team one of which was the scrum.
"Our scrum has been suspect in all three outings to date and so we have welcomed the Ambassador's initiative of sourcing a specialist scrum coach to assist us in identifying/sharing ideas on improving," said a GRFU official of the decision to reinforce the coaching panel with Diego Giannantonio.
Nevertheless D-Day for rugby fans in Guyana and Mexico is finally here and according to reports, the game will be streamed live with the winner to play the South American B Championship winner next. Mexico reached the final by winning the North Zone defeating Bahamas 39-3, Bermuda 75-10 and Cayman Islands 34-24 while Guyana won the South Zone with wins over Barbados 48-17, Jamaica 23-5 and Trinidad and Tobago 23-18.
Around the Web