If you are a fan of bodybuilding and fitness then Saturday night at the Theatre Guild was the place to be since some of the best bodies in the Region took the stage to do battle in what turned out to be a fantastic evening.
When the dust settled after each of the 34 gladiators flexed their muscle fibres to the max, Suriname's Soepe Koese and Militia Galimo, Guyana's Emmerson Campbell and Barbados' Shaquille Lavine found themselves as the last men and woman standing.
Despite being the shortest bodybuilder to grace the stage, Koese, stood head and shoulders above the competition by flexing and posing his way to the Mr. 'Stage of Champions' overall title.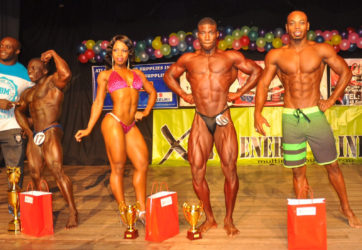 Standing at four feet, 11 inches, Koese was the David among the Goliaths but he possessed a superior level of detail and his 153-pound frame was a mass of striated muscle.
With chiseled arms, deltoids, glutes, legs, a barn-door back and a washboard mid section, the Surinamese, used his sharp physique to slice through the competition of nine musclemen.
While Lavine dispatched eight other bodybuilders in the open class, he had to settle for third in the overall invitational after finishing behind Koese and Wendel Sedro.
Nevertheless, the young and promising bodybuilder will return to the 'Land of the Flying Fish' with the US$500 third prize. The sum of US$1250 went to Koese, while his countryman Sedro pocketed US$750.
Men's Physique
The judges  awarded the Men's Physique Showdown trophy to 2016 CAC silver medalist, Campbell with countryman, Yannick Grimes second.
Among a group of eight awesome physiques, Campbell brought the shape and stage presence the judges most wanted to see, he was well-proportioned, well-muscled bur not overly conditioned, the tools necessary to present a winning package in the category.
Bikini
In the sizzling Ms. Bikini segment, Galimo upstaged her Barbadian rival, Shakira Doughlin and Suella Shepherd in the nine-woman category. The overall Ms. Bikini champion was the near perfect mix of muscularity, symmetry, sass and style.
Campbell and Galimo took home the US$500 first prize for winning their segments of the show.
The organizers of the event dubbed it a success and will look to make 'Stage of Champions' an annual fixture.
Around the Web