PORT OF SPAIN, Trinidad, CMC– Head coach of the Trinidad and Tobago national senior team Stephen Hart is refuting allegations that he used injured goalkeeper Jan-Michael Williams during the recent World Cup Qualifier against Honduras, against the advice of team doctor Terrence Babwah.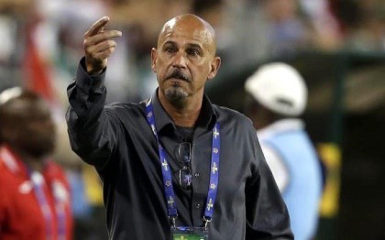 Hart's denial follows the resignation of Dr.Babwah and team physiotherapist Dave Isaac in the wake of T&T's  3-1 loss to  Honduras in San Pedro Sula last week.
Their resignations were confirmed in a release issued by the Trinidad and Tobago Football Association (TTFA).
"[Babwah] never told me it was not safe to play Jan. He never ever said that! He told me that Jan had an injury [while we were] in Trinidad. He said Jan hurt his shoulder and he was struggling with it," Hart told Wired868.
"So I said let us see how it works out. We had a light training session in Trinidad but then we had two training sessions in Panama and Jan trained twice fully. He dived, he did everything".
According to the statement issued by TTFA, Dr. Babwah, a member of the FIFA Medical Committee for over 10 years, said "his professional integrity and that of the Team's medical staff, had been compromised by decisions made leading up to the Honduras game". " Mr. Dave Isaac, another clinical person who has been with the team for the past four years also tendered his resignation, citing concerns about specialist advice being ignored", the release also stated.
But Hart has insisted that he was not advised against playing the T&T custodian. "Why would I risk a goalkeeper if he couldn't raise his arm?" asked Hart.
"That doesn't make sense. Something is not reading right here at all. I have a picture right now with Jan's arm fully in the air, which is the same arm they said he couldn't raise. So I don't know what is going on at all".
During the qualifier against Honduras, Jan-Michael was taken off after receiving a knee to his head in a collision with striker Alberth Elis in the 10th minute.
Media reports here say he was knocked unconscious for about seven minutes and had to undergo a CT scan that showed no internal bleeding.
President David John-Williams has since called a special meeting of the TTFA to address  Babwah's resignation and other issues regarding the senior team.
"I don't know where this is coming from. I was there for two years and we never had any situation like this [and] I wasn't given any opportunity to respond," said Hart.
"I'm just in shock that this is happening with some people I have had a working relationship with for the three years I have been here without a single issue."
T&T's goalkeeper coach Michael Maurice and fitness trainer Tobias Ottley have also strongly denied the accusations against Hart which appeared in the Guardian newspaper.
Around the Web