Jason Shurland pulled out all stops and created a striking black and gold gown for Melicia Partab and matching kurta for Hashim Alli, co-founders of Nachle Designs, who got married on July 30, crushing the myth the a bride in black is a bad omen.
The couple wanted a look that said fashion, Mughal and royalty that stayed within the limits of their Islam religion, since outside of the box is what defines Jason, he was approached, he said.
"I was not shocked when they told me the colour, as they're [renowned] people within the fashion industry and which bride and groom would not want to be different on their wedding day? I had done wedding dresses before but nothing close to this one and not for a Muslim bride and groom either," Jason said.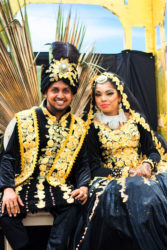 "It was a learning experience for me as I researched every detail of what a Muslim bride and groom should wear including different ways to wrap a [turban], the style of pants a groom should wear and suitable colours."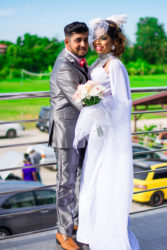 In two days Hashim's attire was completed but it took Jason two full months to create Melicia's gown and a total of 68 yards of fabric, which according to him made it really heavy, but Melicia "floated around like a butterfly" in it on her wedding day.
Once he was done, they were so impressed that he was given the job of making the white gown as well, which had already been given to another designer. "The white dress was more simple and sexy but classic. A modern white dress with a detachable cape gave her a more relaxed look that showed the [subtle] side of her," he said.
The bride made her own accessories of wire and pearls which Jason hand sewed to the dress also to give it that "came with it look."
He said, "This dress was [associated] with more meaning than any other dress I've made. I used golden roses and leaves to demonstrate how their love grew. It was intricately placed in beaded detail to give her that Arab queen look suited only for a king."
According to Jason the sight of the couple brought both positive and negative comments from their guests. Some commended them on their boldness to step out looking diverse while others were shocked at the use of black for a wedding. What brought more shock was when it was made known that the clothing was by a local designer as many thought it had been imported from India.
Though the wedding was a little over a month ago it is still being talked about.
Meanwhile, Jason is currently working along with the Miss India Guyana franchise as one of the designers creating outfits for the international leg of the pageant.
Around the Web