Two-time Calypso and Chutney King, twice a winner of the Health Song Competition and five-time Shanto King, Roger 'Young Bill Rogers' Hinds has done it again.
This time, the singer has launched three brand new songs: "Suicide is Not the Answer," "Chutney Music Nice" and "Jiggling Bumper" which are being blasted on airwaves across Guyana, in New York and Canada.
"The suicide song was inspired by the increasing suicide rate in Guyana and the world at large," Roger told The Scene. "After I performed at the Awards Ceremony organized by the 'Caribbean Voice' which is a suicide epidemic organization, its President Annan Boodram who has a branch here; one of its committee members Bibi Ahamed and the vice president were instrumental in writing this song along with Nazim Hussein."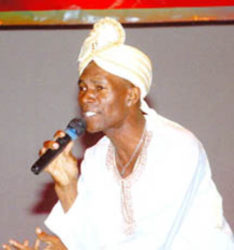 The Chutney song, however, was inspired by his love for Bollywood movies since he was a child. This song was done in collaboration with reigning Chutney King Bunty Singh and is in fact is the first collaboration ever between Afro Guyanese and Indo Guyanese Chutney Kings, Roger said.
The last song "Jiggling Bumper," he said, was for his party-going fans.
All three songs can be found on the CD, 'Guyanese Mix' with Roger Hinds and Bunty Singh, which also features Bunty's four-year-old son, Krish. A copy of the CD costs $1,000. 'Guyanese Mix' was recorded by Bunty's studio.
Fans are also encouraged to check out Roger's other CD, 'Hits of Young Bill Rogers', which offers a sort of 'best of' take on his music.
Roger expressed, "A big thank you to Satesh Udiaram from the USA who financed the project of all three songs."
Around the Web