In pursuit of the challenge of re-engineering its product line to ensure that the company meets the packaging needs of new and emerging industries in local and external markets, Carib-bean Container Inc. (CCI) has embarked on what the company says are "various elevated levels and market studies and accompanying product development initiatives."
CCI Chief Executive Officer Patricia Bacchus, in a recent interview with Stabroek Business identified several such initiatives including the development of a range of corrugated packaging for the value-added coconut industry including outer corrugated boxes for coconut oil, coconut water and coconut milk, inner separators and pads, and retail ready boxes for dehydrated coconut milk satchels and coconut flour. Bacchus said that the new line of packaging for coconut products offers both durability and functionality for product protection, versatility for branding and printing. She said that the company has the capacity to size these containers to meet customer needs.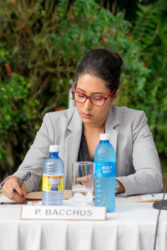 Prominent among CCI's packaging initiatives is what the company's CEO describes as "containerized export support," a venture that seeks to respond to what she says is "the global evolution in quality standards, and the emphasis on ease of logistics and handling." In this regard she says that the company has successfully designed corrugated tier sheets and pallet corner protectors which cater for the effective packaging of rice, beverages and other exports to customers who require "palletized containers." Bacchus told Stabroek Business that the need for palletized containers is becoming more pervasive among customers in the export market who require "value- added packaging and palletized loading of containers for efficient offloading, handling and storage."
CCI's recent production focus has also included novelty packaging solutions which, Bacchus says, takes account of the fact that demand quantities "may not justify large scale production at this time." The company, she says, is in a position to make available such packaging in small quantities, targeting the fashion industry and the promotion and events management industry. CCI is also equipped to produce hand-made gift boxes for state agencies and other prominent institutions. Work in this regard has been done for the Ministry of the Presidency, ANSA McAl, Digicel and Guyenterprise. Packaging in this category caters to ornaments, local craft and textiles.
Established more than thirty years ago CCI has experienced more than its fair share of difficulties which reached a high point in 2006 when it was confronted with the threat of foreclosure. Following the successful negotiation of a debt-settlement agreement it undertook a comprehensive financial and operational restructuring in 2012. According to Bacchus, after a protracted period of financial underperformance and not declaring and paying dividends the company declared a small profit for the 2012 financial year, enabling the payment of dividends to its more than six hundred shareholders. She said that as the restructuring exercise unfolded the company's profitability improved, positioning it to declare a record dividend of $0.22 per share in the 2016 financial year.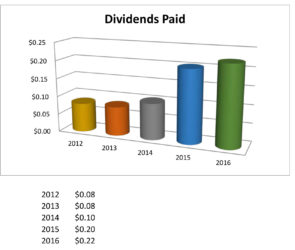 Bacchus told Stabroek Business, meanwhile, that the company's performance has been "sound" over the past five years and that it has been able to cover its capital retooling costs through self-generated funds. "Our company has no lien or mortgage over its assets as it operates from a healthy cash flow position and has been able to avoid both long-term borrowings and costly short-term overdraft facilities," Bacchus told Stabroek Business.
Bacchus, an attorney-at-law, told Stabroek Business, however, that notwithstanding CCI's positive improvements the company remains aware of what she described as "the dynamic market conditions within which it operates," an awareness that impels it to "strive for continuous improvement."
Bacchus told Stabroek Business that factors such as growing regional and extra regional competition coupled with high production costs meant that operating a paper-recycling mill and box-manufacturing plant was a "highly competitive" undertaking. The challenges, she says, "require dynamic marketing management, efficient operational leadership and continuous re-engineering of products and processes. This is particularly imperative when one considers the declining regional economic conditions and accompanying drop in consumer spending which collectively can affect manufacturers' output and their need for corrugated packaging."
According to Bacchus, aging assets, high energy costs and competitors' acquisition of newer, more efficient technology continue to drive CCL's efforts for improved efficiencies and to push the company in the direction of accelerated expenditure on capital re-tooling and expenditure.
Comments

What had appeared for several months to have been sharp differences between the Ministry of Natural Resources and representatives of mining syndicates over land allocation that had effectively stalled the commencement of work by the country's first group of gold-mining cooperatives now appears to have come to an end following an encounter between the miners and Minister of Natural Resources Raphael Trotman.

While there are signs that talks on the huge debt owed by the city to Puran Brothers and Cevons Waste Management have been bearing fruit, dissonance continues even as the garbage crisis in the capital may be worsening.

The Guyana Mining School and Training Centre Inc.,in partnership with its stakeholders and supporting training partners, has begun training more than thirty five young adults in disciplines relating to the application of STEM (Science, Technology, Engineering and  Mathematics) to the exploration component of  upstream oil and gas operations.

Gold Prices for the three day period ending Thursday November 16, 2017 Kitco is a Canadian company that buys and sells precious metals such as gold, copper and silver.

With good grades in English Language and Mathematics increasingly being touted as a critical doorway to higher education and meaningful employment paths in Guyana," the Georgetown-based JTW Management Institute has launched the City and Guilds of London and English and Mathematics certificates as what the Institute's Director Jocelyn Williams is describing as a "second chance" for CSEC students and young school leavers.