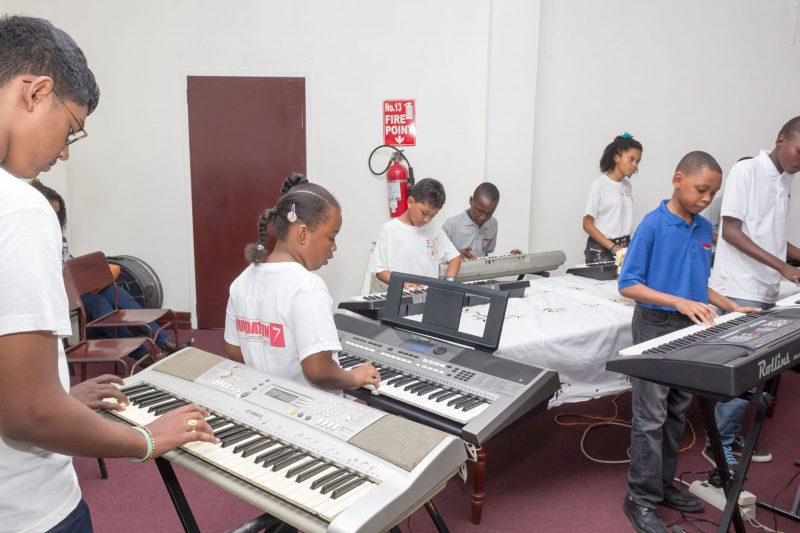 A nine-year-old local music school has been awarded a $1 million grant along with a one-year capacity-building support system through the Small Business Bureau (SBB) designed to equip the institution with the capacity to develop sound and prudent financial best practices in order to facilitate its continued financial growth.
The privately-run Foundation Seven Music School was selected for the award from among 50 small and medium enterprises in the agro-processing, music and art and craft sectors that were tasked with critically examining the financial landscape within which they operate as well as the laws and regulations governing their access to financial instruments and the need for adapting a sound entrepreneurial persona to improve their current abilities.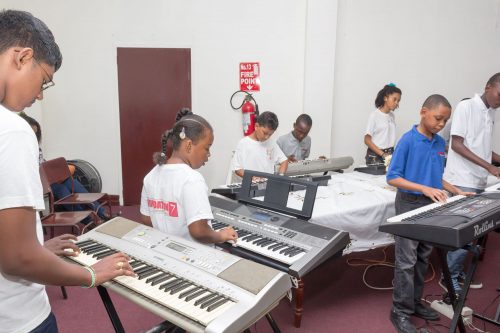 The project was undertaken by the Georgetown Chamber of Commerce and Industry through its Caribbean Development Bank-supported project Improving Competitiveness in Guyana and Strengthening of Small and Micro Enterprises (SMEs) to Increase Non-Traditional Exports in collaboration with the World University Services of Canada through its Government of Canada-funded Promotion of Regional Opportunities for Produce through Enterprises and Linkages project.
Funding for the grant was provided by the Republic Bank (Guyana) Ltd and Scotiabank Guyana to enable the setting up of a Wealth Creation Fund.
Participants in the initiative were initially invited to take part in a two-day SME Credit Forum for entrepreneurs that allowed for the financial partners, Republic Bank, Scotiabank and the Institute for Private Enter-prise Development to provide them with guidance on credit limitations and opportunities for improving financial transactions as well as allowing them (the participants) to make inputs of their own. The two-day session also included a business-to-business networking opportunity that allowed participating SMEs to exhibit their products and to secure constructive feedback from other key private sector partners.
Comments

The unchanging dilemma of an uncompetitive   local manufacturing sector continues to be manifested in the persistence of high electricity costs coupled with a notoriously unreliable power supply system and high costs of imported raw material inputs, among other things, Former President of the Guyana Manufacturing & Services Association (GMSA) Ramsay Ali who is also Chief Executive Officer of Sterling Products Ltd.

With the global coconut industry now offering numerous potentially lucrative opportunities to the manufacturing and agro-processing sectors, the local company, Sterling Products Ltd is signalling its intention to utilize the sector to enhance its own expansion and diversification programmes.

It had always appeared to be the case that the assurance given the citizenry by Town Clerk Royston King in a statement last week that following the withdrawal of services by City Hall's substantive service providers, Cevons Waste Management and Puran Brothers, the City was putting in place contingency measures to manage, in an environmental friendly manner, the city's waste disposal, was little more than just another example of the municipality getting ahead of itself.

(Trinidad Guardian) China Railway Construction Corporation (CRCC) has been awarded a $221.7 million contract by the National infrastructure Development Company (Nidco) to build the controversial Curepe Interchange, the state company's chairman Herbert George has confirmed.

Gold Prices for the three-day period ending Thursday August 17, 2017 Kitco is a Canadian company that buys and sells precious metals such as gold, copper and silver.