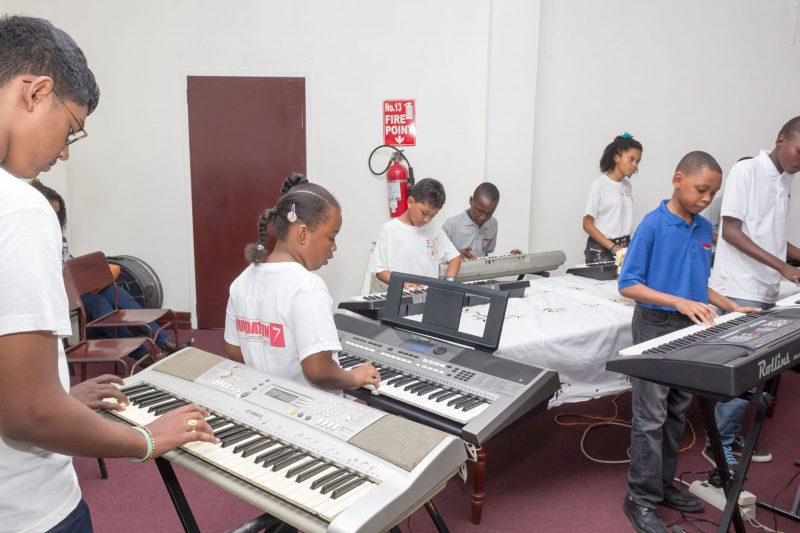 A nine-year-old local music school has been awarded a $1 million grant along with a one-year capacity-building support system through the Small Business Bureau (SBB) designed to equip the institution with the capacity to develop sound and prudent financial best practices in order to facilitate its continued financial growth.
The privately-run Foundation Seven Music School was selected for the award from among 50 small and medium enterprises in the agro-processing, music and art and craft sectors that were tasked with critically examining the financial landscape within which they operate as well as the laws and regulations governing their access to financial instruments and the need for adapting a sound entrepreneurial persona to improve their current abilities.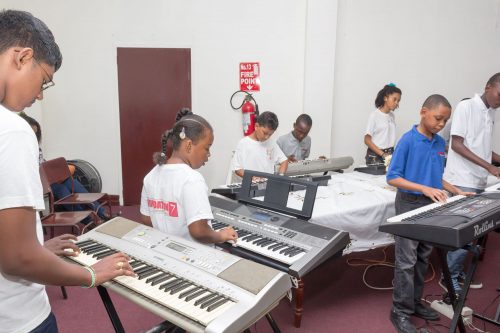 The project was undertaken by the Georgetown Chamber of Commerce and Industry through its Caribbean Development Bank-supported project Improving Competitiveness in Guyana and Strengthening of Small and Micro Enterprises (SMEs) to Increase Non-Traditional Exports in collaboration with the World University Services of Canada through its Government of Canada-funded Promotion of Regional Opportunities for Produce through Enterprises and Linkages project.
Funding for the grant was provided by the Republic Bank (Guyana) Ltd and Scotiabank Guyana to enable the setting up of a Wealth Creation Fund.
Participants in the initiative were initially invited to take part in a two-day SME Credit Forum for entrepreneurs that allowed for the financial partners, Republic Bank, Scotiabank and the Institute for Private Enter-prise Development to provide them with guidance on credit limitations and opportunities for improving financial transactions as well as allowing them (the participants) to make inputs of their own. The two-day session also included a business-to-business networking opportunity that allowed participating SMEs to exhibit their products and to secure constructive feedback from other key private sector partners.
Comments

The efforts of the Ministry of Natural Resources attended by external support notwithstanding, the Government of Guyana still considers the phenomenon of gold smuggling to be seriously injurious to the country's economy and in his recent 2018 budget presentation to the National Assembly, Finance Minister Winston Jordan set out the APNU+AFC administration's proposals for helping to address this problem.

aNatural Resources Minister Raphael Trotman has disclosed three key objectives which the Government of Guyana will be pursuing in 2018 to consolidate its capacity to effectively service a modern oil and gas industry including a national oil company which will be charged with responsibility for overseeing the country's commercial interest in the sector.

Against the backdrop of longstanding concerns over a dire shortage of job opportunities in hinterland communities, government has disclosed plans in the 2018 budgetary proposals for a $200 million investment in the Hinterland Green Enterprise Development Centre at Bina Hill in Region Nine which, according to Finance Minister Winston Jordan, seeks to focus on areas of training "that leverages indigenous and traditional knowledge and drives upstream demand for local products and services." The disclosure in Jordan's 2018 budget presentation of what he describes as a "flagship initiative" comes against the backdrop of a growing clamour for the creation of job opportunities for residents of hinterland communities that go beyond their reliance on the production and sale of traditional craft and small scale agriculture.

These days, there are unmistakable indications that Mahdia is busying itself preparing to embrace the township status that beckons.

Five months after the University of Guyana's School of Entrepreneurship and Business, (SEBI) was launched, Dean of the new institution, Guyanese-born Professor Leyland Lucas has told the Stabroek Business that some of the challenges that repose in ensuring that the institution delivers on its mandate repose in the fact that "it is different.