General Manager of the Guyana Marketing Corporation's (GMC) Guyana Shop, Kevin Macklingham has told Stabroek Business that local agro-processors need to raise their game even further in terms of the quality of their packaging and labelling if their products are to be more competitive on the local and overseas markets.
In an interview with this newspaper on Tuesday, Macklingham said that while, in recent years, the quality of packaging and processing in the agro-processing sector had improved "significantly," both local and foreign consumers were demanding ever higher standards and that, these days, packaging and labelling "probably counts for as much as product quality" with customers.
Macklingham told Stabroek Business that high labelling and packaging costs frequently make the difference between success and failure among enterprises in the agro-processing sector. He explained that what was in evidence increasingly these days is a significant disparity between production costs and packaging and labelling costs in the sector. "There are instances that we have seen where the packaging and labelling costs can actually account for as much as 60% of the selling price of the item.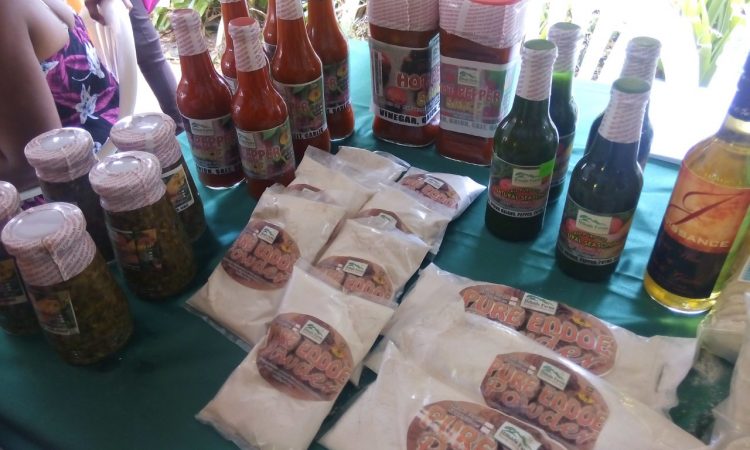 The Guyana Shop which serves primarily as a 'show window' for locally produced condiments, spices, snack foods and other food and household products currently serves more than seventy local agro processors and major manufacturers. Sterling Products, Edward B. Beharry, Banks DIH Ltd. and Demerara Distillers Ltd. are among the high-profile companies whose products are displayed on the shelves of The Guyana Shop. The facility also provides product-promotion services for smaller enterprises. The product range available at the Guyana Shop includes jams and jellies, cooking sauces, processed fish, coconut products, snack foods, processed fruit, coconut oil, wines and beverages, peas and beans and powdered spices.
Through the Guyana Marketing Corporation's agro development business services, local agro processors have access to product enhancement services aimed at adding value to their products.  Macklingham told Stabroek Business that among the key criteria for product acceptance at the Guyana Shop is the requirement that agro processors satisfy the safety and health criteria including the food safety standards set by the Government Analyst Food & Drugs Department. The services afforded local manufacturers and agro processors are extended to all regions of the country with the exception of Regions Seven and Nine.
Macklingham explained that the services being offered by the Guyana Shop include product promotion at various national events including the GuyExpo, Berbice Expo and Essequibo Expo events.
But despite the support afforded local producers by the Guyana Shop, Macklingham told Stabroek Business that prohibitive packaging and labelling costs and what in many instances was sub-standard labelling continued to inhibit market opportunities both at home and abroad.  He explained that while local producers had, in recent years, developed an enhanced awareness of the importance of product presentation, local standards, in many instances continued to lag behind the expectations of the international market.
Comments

What had appeared for several months to have been sharp differences between the Ministry of Natural Resources and representatives of mining syndicates over land allocation that had effectively stalled the commencement of work by the country's first group of gold-mining cooperatives now appears to have come to an end following an encounter between the miners and Minister of Natural Resources Raphael Trotman.

While there are signs that talks on the huge debt owed by the city to Puran Brothers and Cevons Waste Management have been bearing fruit, dissonance continues even as the garbage crisis in the capital may be worsening.

The Guyana Mining School and Training Centre Inc.,in partnership with its stakeholders and supporting training partners, has begun training more than thirty five young adults in disciplines relating to the application of STEM (Science, Technology, Engineering and  Mathematics) to the exploration component of  upstream oil and gas operations.

Gold Prices for the three day period ending Thursday November 16, 2017 Kitco is a Canadian company that buys and sells precious metals such as gold, copper and silver.

With good grades in English Language and Mathematics increasingly being touted as a critical doorway to higher education and meaningful employment paths in Guyana," the Georgetown-based JTW Management Institute has launched the City and Guilds of London and English and Mathematics certificates as what the Institute's Director Jocelyn Williams is describing as a "second chance" for CSEC students and young school leavers.