With the procedural details associated with the launch of a commercial airline route between Guyana and Cuba having finally been expedited by the Cuban Institute of Civil Aeronautics (IACC), Guyana's Ambassador to Cuba, Halim Majeed has said that tourism is likely to be one of the prime beneficiaries of the new service when it is launched later this month.
"We have a large diaspora in Canada and, as far as we understand, Guyanese-Canadians will come to Cuba and spend one week, then go to Guyana to spend another week, come back to Cuba and spend another week, and then return to Canada," Majeed said.
On Saturday, Guyanese and Cuban officials gathered in Havana to mark what resident representative of Fly Jamaica-Air Guyana in Cuba, Lindbergh Smith said was the conclusion of a critical phase of an initiative that had gotten underway just over three years ago. He said that beyond the strengthening of bilateral ties between Georgetown and Havana the introduction of the new service would "strengthen Caribbean integration in terms of air transport, tourism and multi-destination travel and foster trade and commerce across the region."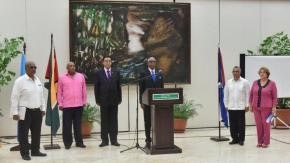 Director General of International Relations for the IACC, Mercedes Vasquez recalled that Cuba and Guyana had established diplomatic relations in 1972, and that over time relations between the two countries had grown incrementally stronger.
Chairman and Chief Executive Officer of Fly Jamaica, Captain Ronald Reece, said the ties between his company and Cuba went back to 2013 when it commenced serving the Nassau-Havana route at  Smith's request.
Majeed, meanwhile, disclosed that negotiations are already underway with Cuba's Ministry of Tourism to enhance multi-destination travel with other Caribbean territories including The Bahamas, St. Vincent and the Grenadines, and Antigua & Barbuda once the new service gets underway. And according to the Guyanese envoy fostering bilateral trade and commerce was one of the driving forces behind the creation of the new air route.  "We have companies from Guyana that want to invest in Cuba, including industries devoted to furniture and lumber; farming companies that deal with rice and fertilizers, others that manufacture and sell shingles and wooden artifacts."
Stabroek Business has also learnt through the Ambassador that the commercial outcomes of the new arrangement will witness Guyanese purchases of steel and marble products as well as pharmaceuticals and medical equipment among other commodities available in Cuba.  Stabroek Business understands that last Saturday's ceremony was also attended by Cuba's Vice Minister for Foreign Trade and Investment IIeana Nunez and other senior government officials.
Fly Jamaica currently serves Kingston, Georgetown, New York and Toronto. Stabroek Business understands that in addition to the new Havana flights the company is expected to announce the start of flights to several cities in Cuba including Camaguey and Santiago de Cuba.
Around the Web