With the global coconut industry now offering numerous potentially lucrative opportunities to the manufacturing and agro-processing sectors, the local company, Sterling Products Ltd is signalling its intention to utilize the sector to enhance its own expansion and diversification programmes.
In an interview with Stabroek Business earlier this week, the company's Chief Executive Officer, Ramsay Ali disclosed that in pursuit of a major investment in the coconut industry Sterling had made an application to the Government for the acquisition of 10,000 acres of land along the Demerara River for coconut cultivation.
While the Sterling Chief Executive provided no details of the envisaged scale of the venture he told Stabroek Business that he believed that government was "looking favourably" at the company's application and that he was optimistic that this latest diversification initiative on the company's part would realise success.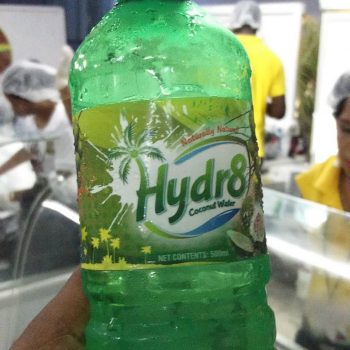 The move by Sterling Products to acquire land for coconut cultivation signals the company's intention to invest more heavily in a sector in which it is already involved. The company presently purchases coconut water from farmers in the Pomeroon River which it bottles and re-sells locally under the brand name Hydrate. This land acquisition initiative points to the company's intention to significantly increase its market share in the sector.
Ali told Stabroek Business that any contemplation of a major export market for Guyana's coconut water would have to take account of its relatively short shelf life and of the requirement of investment in pasteurization. He estimates that the creation of such a plant here could cost the investor an amount in the region of G$40 million. He is unsure as to whether the volume of local coconut production at this time warrants the creation of a pasteurization plant.
Already one of the lead players in the country's manufacturing sector outside of the alcohol industry, Sterling Products is aiming to pursue a path of diversification in order to continually strengthen its competitive position on both the local and external markets.  Ali told Stabroek Business that at the heart of the company's current operations are four plants producing ice cream, margarine, detergents and yogurt which, together, produce a range of products sold both locally and on the regional and North American markets though around 90% of what it produces is marketed locally.
The company's export market embraces nine CARICOM countries Trinidad and Tobago, Barbados, Antigua, Dominica, St Lucia, St Vincent and the Grenadines, Grenada, Montserrat and Suriname.
Mindful of the quality standard requirements associated with accessing potentially lucrative markets Ali said that over the past decade Sterling Products has invested around $60 million to acquire the requisite quality certification. He said that apart from being ISO-certified Sterling Products operates its own Quality Assurance Department and a Business Development Unit which departments have responsibility for monitoring and ensuring high quality standards and the development of new products , respectively. Ali told Stabroek Business that the work of the company's Business Development Unit has, over the past five years, yielded a number of new products including yogurts and fruit ice creams.
Ali told Stabroek Business that Sterling Products has also invested heavily in employee training (including overseas training) and development, from entry level to senior positions.
Comments

A scheduled visit here by a Brazilian trade and investment delegation originally due to take place this month as a follow-up to one to Brazil by a team of Guyanese state officials last May has been postponed until mid-February, Stabroek Business has been informed.

Roraima Airways Chief Executive Officer Captain Gerry Gouveia says that the "legitimate concern" over the recent delay in returning home experienced by a number of Cubans on account of mechanical defects to the Air Aruba aircraft should not be allowed to overshadow the significance of the service to promoting "friendships and business ties" between Cuba and Guyana.   

Work towards the creation of a Secured Transaction Regime in Guyana is being accelerated through a collaborative arrangement between the Government of Guyana and the Inter-American Development Bank.

A letter written to the Managing Director of the majority Russian-owned    Bauxite Company of Guyana Inc.
Information released by the Small Business Bureau (SBB) last week indicates that during last year the agency facilitated a total of fifty loans to clients   valued at $269.7 million and up to November 30, 49 of those loans valued at $221.8 million were disbursed.