With the global coconut industry now offering numerous potentially lucrative opportunities to the manufacturing and agro-processing sectors, the local company, Sterling Products Ltd is signalling its intention to utilize the sector to enhance its own expansion and diversification programmes.
In an interview with Stabroek Business earlier this week, the company's Chief Executive Officer, Ramsay Ali disclosed that in pursuit of a major investment in the coconut industry Sterling had made an application to the Government for the acquisition of 10,000 acres of land along the Demerara River for coconut cultivation.
While the Sterling Chief Executive provided no details of the envisaged scale of the venture he told Stabroek Business that he believed that government was "looking favourably" at the company's application and that he was optimistic that this latest diversification initiative on the company's part would realise success.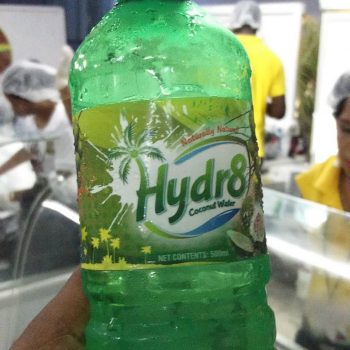 The move by Sterling Products to acquire land for coconut cultivation signals the company's intention to invest more heavily in a sector in which it is already involved. The company presently purchases coconut water from farmers in the Pomeroon River which it bottles and re-sells locally under the brand name Hydrate. This land acquisition initiative points to the company's intention to significantly increase its market share in the sector.
Ali told Stabroek Business that any contemplation of a major export market for Guyana's coconut water would have to take account of its relatively short shelf life and of the requirement of investment in pasteurization. He estimates that the creation of such a plant here could cost the investor an amount in the region of G$40 million. He is unsure as to whether the volume of local coconut production at this time warrants the creation of a pasteurization plant.
Already one of the lead players in the country's manufacturing sector outside of the alcohol industry, Sterling Products is aiming to pursue a path of diversification in order to continually strengthen its competitive position on both the local and external markets.  Ali told Stabroek Business that at the heart of the company's current operations are four plants producing ice cream, margarine, detergents and yogurt which, together, produce a range of products sold both locally and on the regional and North American markets though around 90% of what it produces is marketed locally.
The company's export market embraces nine CARICOM countries Trinidad and Tobago, Barbados, Antigua, Dominica, St Lucia, St Vincent and the Grenadines, Grenada, Montserrat and Suriname.
Mindful of the quality standard requirements associated with accessing potentially lucrative markets Ali said that over the past decade Sterling Products has invested around $60 million to acquire the requisite quality certification. He said that apart from being ISO-certified Sterling Products operates its own Quality Assurance Department and a Business Development Unit which departments have responsibility for monitoring and ensuring high quality standards and the development of new products , respectively. Ali told Stabroek Business that the work of the company's Business Development Unit has, over the past five years, yielded a number of new products including yogurts and fruit ice creams.
Ali told Stabroek Business that Sterling Products has also invested heavily in employee training (including overseas training) and development, from entry level to senior positions.
Comments

What had appeared for several months to have been sharp differences between the Ministry of Natural Resources and representatives of mining syndicates over land allocation that had effectively stalled the commencement of work by the country's first group of gold-mining cooperatives now appears to have come to an end following an encounter between the miners and Minister of Natural Resources Raphael Trotman.

While there are signs that talks on the huge debt owed by the city to Puran Brothers and Cevons Waste Management have been bearing fruit, dissonance continues even as the garbage crisis in the capital may be worsening.

The Guyana Mining School and Training Centre Inc.,in partnership with its stakeholders and supporting training partners, has begun training more than thirty five young adults in disciplines relating to the application of STEM (Science, Technology, Engineering and  Mathematics) to the exploration component of  upstream oil and gas operations.

Gold Prices for the three day period ending Thursday November 16, 2017 Kitco is a Canadian company that buys and sells precious metals such as gold, copper and silver.

With good grades in English Language and Mathematics increasingly being touted as a critical doorway to higher education and meaningful employment paths in Guyana," the Georgetown-based JTW Management Institute has launched the City and Guilds of London and English and Mathematics certificates as what the Institute's Director Jocelyn Williams is describing as a "second chance" for CSEC students and young school leavers.