If you are keen to get a glimpse into the real fortunes of Tandy's Manufacturing Company the physical presentation of their products is probably not the best indicator to go by. The high quality of the packaging and labeling of their nut butter, jams and jellies and various other condiments and the manner in which they match, every inch, the aesthetics of their imported counterparts, masks what the Company's Chief Executive Officer Burt Denny says are the formidable challenges associated with "holding things together."
This may not be the era of two decades ago when Burt and Vilma Denny's kitchen turned out peanut butter and sold them to shops in one-gallon buckets, the brisk trade that the product attracted compelling him to repeat the production process all over again in a week or so. Nor are these the days when the popularity of the product grew his market to include J.P. Santos, the Knowledge-Sharing Institute, the Linden Plaza, Melanie Damishana, Guyana Stores and Fogarty's Supermarkets. Then gradually expanding markets enabled an increase in earnings for both himself and for a man named Robbie who regularly moved hundreds of pounds of peanuts from Lethem into storage in Burt Denny's home, which in those days, doubled up as living quarters and storage and production facility. Then too, embracing the old axiom that every little helps, he sold parched nuts but had to eventually end that 'side line' as his substantive pursuit took up more time and effort.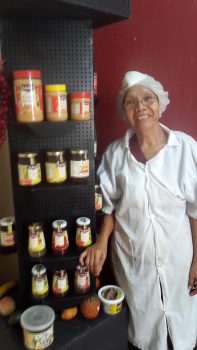 What Denny quickly found out, too, is that when you are looking to grow a market for peanut butter, packaging confined largely to one-gallon containers won't 'cut it.' He shifted to self-sealing plastic packages, by which time he had found his way to the Institute of Private Enterprise Development to negotiate his first loan. Business pursuits can communicate profoundly misleading information to the outside observer and Burt Denny and his family have, over the years, become painfully aware of the fact that all that glitters is by no means gold.
Seasoning
Growth, over time, had seen the expansion of the Tandy product range to include green seasoning, Chinese seasoning, mango and tamarind achar, guava jams and jellies, guava cheese and fruit mix for cakes. Growth and expansion, however, brings its own challenges as Burt has found out; and though the Denny family has 'raised their game' to meet the product presentation standards necessary, the return on their effort has been modest.
About 10 per cent of the company's product is exported to countries in the Caribbean, mainly Trinidad and Tobago, Antigua and Grenada. The remainder is sold in local outlets to a clientele spoilt for choice by a surfeit of competing imported products and not necessarily disposed to embracing the 'buy local' refrain.
Export growth possibilities are constrained by competition and a lack of   incentives to help enhance the competitiveness of locally manufactured products. Across the board, this is the bane of the manufacturing sector's existence. To grow its export market, therefore, Tandy's is under constant pressure to push its prices down. That is not all. In a highly competitive market, effective penetration often relies on the services of middle men who are familiar with the market and whose fees for facilitating product penetration can sometimes be exorbitant.
Occasional state-driven experiments designed to grow external markets have mostly not worked. Denny recalls that about five years ago, Tandy's was part of an export readiness experiment involving four other local businesses. With assistance from government they were facilitated to allow export of their commodities to Toronto, New York, Miami, Antigua, Grenada and Trinidad and Tobago, under contract; an important qualifying criterion being that they meet packaging and labeling standards that would gain acceptance on the external market.  The initiative was eventually abandoned with some of the local firms unable to collect monies owed to them by overseas buyers.
An approximate 30 per cent drop in sales in 2016 tells its own story. Burt Denny is blunt about 2016 being a bad year for business.  Over time, he has become increasingly sensitive to the ties that bind him to the producers of the raw materials upon which he depends for his finished products. He has established strong links with various farming communities across the country. Those are links that have their roots in trust and an understanding of each's roles in the complete process. Bad quality raw materials can bring an end to potentially lucrative relationships. Such circumstances can also damage reputations and injure valuable market-related arrangements. Fruits are bought when 'in season, sterilized, pureed and frozen. The reliability of purchasing arrangements, forged over time, means that Tandy's has little difficulty in securing its raw material, mostly fruit, for the factory.  There is a more than an adequate supply of fresh fruit here, so much so that he can afford to politely decline enquiries from Brazil and Suriname about making fruit available to the factory. Reliable raw material supplies, however, is not the only assurance which Burt Denny needs. He returns to the theme of his perception of the performance of the economy last year. Tandy's products' sales dipped by 30 per cent. He is concerned about mounting overheads, labour costs and a drop  in demand from his customers. There are retail customers who have cut their orders from twice weekly to once weekly. Enquiries have revealed that these days, products are leaving the shelves at a much more leisurely pace.
In these circumstances Tandy's has had to set aside some of the conventional orthodoxies of business. When business declines workers' jobs are usually among the first to fall victim to cuts. Not so at Tandy's. To retain all of his 22 staff, management has had to devise a system of rotation, alternately offering them working time.
The issue of product recognition is a subject on which he speaks animatedly. He believes that the quality of his company's products entitles Tandy's to a higher degree of local customer loyalty. While he readily concedes that there is always room for improvement in all areas of the production and packaging process, there is a disparity in the dispositions of supermarkets to accommodating local products. Product display arrangements, he says, frequently bare prejudices. Still, the company soldiers on. A jam manufactured for diabetics is currently 'in the laboratory' and could be on the market by year end. Denny says that the production process has been in train for about ten years, revealing that the product has been sent to Trinidad and Tobago for reliable testing. The recommendations received from the testing process suggest that more work needs to be done to afford the product a longer shelf life. Continually providing food safety assurances is one of the company's preoccupations. Tandy's is in the process of securing  Hazard Analysis Critical Control Point (HACCP) certification, a management system in which food safety is addressed through the analysis and control of biological, chemical and physical hazards, from raw material production, procurement and handling, to manufacturing, distribution and consumption of the finished product.
Tandy's immediate-term consolidation plans go beyond food safety concerns. Denny disclosed to Stabroek Business short-term plans to acquire additional equipment including a label dispenser, an additional container filler and capper and a replacement for his generator stolen some time ago. Unreliable power supply, Denny says, not only seriously impairs the production process but also, over time, damages costly equipment.
Denny says he is under no illusions regarding the fact that the manufacturing sector could do with government's assistance. His particular recommendation is that small manufacturers and agro-processors benefit from a limited incubator period that takes them to the level of export readiness.
Legacy is one of Denny's primary concerns. He is under no illusions about the quality of the Tandy product and about the contribution that it has made to local product quality. Contemplating retirement he comforts himself in the knowledge that at least one of his children will 'step up to the plate' when that time comes.
Around the Web