There is, it seems, no end to the entrepreneurial opportunities that can emerge from tinkering with creative possibilities that repose in the range of fruit grown in Guyana…if you are prepared to make the effort, that is, and Diana Prowell who resides at 64 Self Help, Amelia's Ward, Linden believes she could be on to something.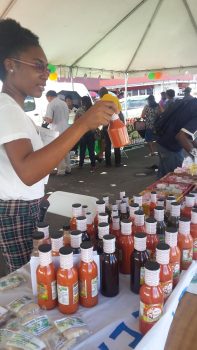 Building an agro processing business from ground up is challenging in ways which the Stabroek Business has shared with readers ad nauseum. What we have also shared are stories of adventurous experiments that have dared to be different and have worked.
As far as Diana is concerned pepper sauce is a routine condiment. To make money out of pepper sauce you have to compete against an array of roughly similar options that cram the supermarket shelves…local initiatives as well as brand name imports.
What Diana has done is to manufacture a product that panders to the taste of the traditional pepper sauce user while providing an option for those who might be adventurous enough to explore the ….
To continue reading this article
Comments

Local gold mining syndicates are awaiting a commitment in writing from Natural Resources Minister Raphael Trotman which an official of the umbrella body administering the affairs of syndicates says should kick start operations by the groups comprising hundreds of small miners.

A joint public/private sector initiative to realize the setting up of a multi-purpose agro-processing plant in Guyana will be high on the agenda of the second Inter Ministerial Roundtable discourses between government and the Guyana Manufacturing and Services Association (GMSA), Stabroek Business has been informed.

By Raymond F. Trotz ITC Liaison, Guyana: Coconut Industry Development for the Caribbean (CIDC) It has been almost a year since the staging of Guyana's first Coconut Festival and there have been many queries on its outcome and possible repetition.

At least thirty young Guyanese from various local communities will shortly be experiencing a novel learning opportunity designed to equip them with skills that will open up possible employment opportunities in the country's mining and oil and gas sectors.

Even as Guyana becomes increasingly preoccupied with the 2020 timetable for the commencement of oil and gas recovery, the ongoing efforts of Trinidad and Tobago to diversify its economy away from the fossil fuel ought to be an object lesson for the new kid on the block as far as the fossil fuel sector is concerned.