The Government of Guyana is contemplating participation in a major December 6 regional forum in Jamaica to discuss ways of attracting more business from international companies to the Caribbean, Business Minister Dominic Gaskin has told Stabroek Business.
In an invited comment earlier this week on the likelihood of Guyana being represented at the region's first ever Outsource to the Caribbean Conference (OCC), Gaskin said the government's participation in the forum being staged by the Barbados-based Caribbean Export Development could depend on the preparedness of the local private sector to join government officials at the forum. "We are aware of the event and Go-Invest is considering participation but will only do it if it can stimulate sufficient interest from the local industry." Local Business Support organizations have been sensitized about the forum though Gaskin said that his Ministry is yet to receive confirmation from those organizations.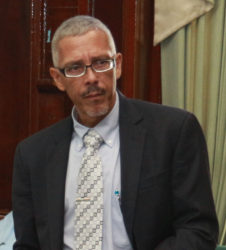 Caribbean Export is being supported in the planning of the event by the Caribbean Association of Investment Promotion Agencies (CAIPA) and funding is being provided by the European Union through the 11th European Development Fund (EDF). In its release announcing the forum, Caribbean Export said that it will seek to explore ways of attracting more business from extra-regional entities in several named sectors including Call Centre operations, Website and Animation Design and Legal and Accounting Services.
The investment areas listed for discussion at the forum are consistent with some of those identified by the Government of Guyana as being welcome here.
Caribbean Export says that it expects more than 100 industry leaders from the public and private sectors across the region to be at the forum.
Caribbean Export says that the Montego Bay forum will focus attention on the Business Process Outsourcing sector, including "nearshore outsourcing" which involves contracting the operations of specific business processes to third-party providers in neighbouring or nearby countries.
Around the Web