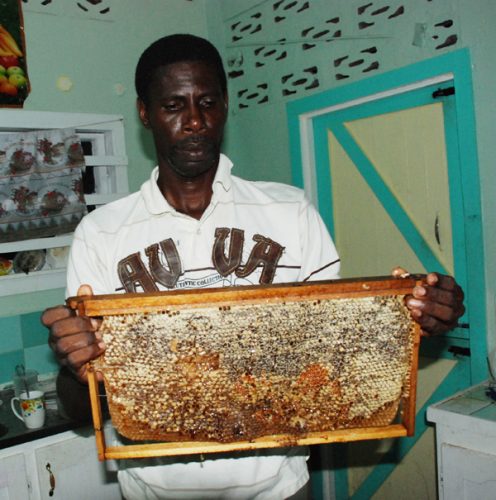 If the local beekeeping industry is to make a more meaningful contribution to livelihoods and to the country's economy as a whole, it is necessary that it receive a far more generous measure of support from government to help create infrastructure and to better position the sector to make a mark on both the local and external market, Treasurer of the Guyana Apiculture Society, Aubrey Roberts has told the Stabroek Business.
Over several decades the local beekeeping industry has been unable to make a meaningful impact on the local mainstream market or on the external market and Roberts endorsed the view that despite the fact that local honey was still in demand here limitations associated with product certification, packaging and labeling meant that the product had its limitations as far as market access is concerned. Director of the Government Analyst-Food & Drugs Department (GAFDD) Marlan Cole told Stabroek Business that some of the honey sold on the local market actually slips under the radar as far as meeting the regulations is concerned. He says that setting aside the product verification considerations there may well be concerns.
Local supermarkets have evinced a preference for imported brands of honey though street vendors offering frequently unlabeled honey have been able to hold their own with smaller outlets and with loyal customers…..
To continue reading this article
Comments

What had appeared for several months to have been sharp differences between the Ministry of Natural Resources and representatives of mining syndicates over land allocation that had effectively stalled the commencement of work by the country's first group of gold-mining cooperatives now appears to have come to an end following an encounter between the miners and Minister of Natural Resources Raphael Trotman.

While there are signs that talks on the huge debt owed by the city to Puran Brothers and Cevons Waste Management have been bearing fruit, dissonance continues even as the garbage crisis in the capital may be worsening.

The Guyana Mining School and Training Centre Inc.,in partnership with its stakeholders and supporting training partners, has begun training more than thirty five young adults in disciplines relating to the application of STEM (Science, Technology, Engineering and  Mathematics) to the exploration component of  upstream oil and gas operations.

Gold Prices for the three day period ending Thursday November 16, 2017 Kitco is a Canadian company that buys and sells precious metals such as gold, copper and silver.

With good grades in English Language and Mathematics increasingly being touted as a critical doorway to higher education and meaningful employment paths in Guyana," the Georgetown-based JTW Management Institute has launched the City and Guilds of London and English and Mathematics certificates as what the Institute's Director Jocelyn Williams is describing as a "second chance" for CSEC students and young school leavers.