Try as it has, the local manufacturing sector has, up until now, been unable to rise to the level of labeling and packaging necessary to secure that elusive edge on the international market. If there is a widespread view that our local sauces, condiments and home-made confectionery are 'up there' with some of the very best in terms of taste, critics are no less emphatic about the serious qualitative weaknesses in our packaging and labeling at a time when those are arguably the most powerful marketing tools   that a product can have.
The recently established US$3 million packaging factory, Flexo Tech. Inc. is aiming to change the paradigm. It may not be an all-embracing solution, but Flexo Tech's General Manager, Brazilian Paulio Malio says he believes that the company can provide a sufficiently impactful transformative effect to cause both local and external markets to take much more than a second look at local products.
The advent of Flexo Tech arose out of the challenges associated with the timely acquisition of imported packaging for the local rice industry and primarily for the Berbice rice giant Nand Persaud and Company. In fact, the new company is the outcome of a partnership between the Brazilian company G-Sat Connection which sells silos, dryers and packaging machines to a number of local companies. G-Sat's clients include the Nand Persaud Group, Hack's Rice Mills, CARICOM Rice Mills and Guyana Stockfeeds Ltd. What the new company has effectively done is to remove the waiting time that had previously obtained to secure packaging ordered from China. At the local level the company has already been engaged by Banks DIH. Ltd. and Sterling Products Ltd.to meet some of its packaging needs.
When Malio spoke with Stabroek Business recently he said that at the local level, the company was aiming at helping to provide an impactful response to the packaging challenges plaguing small operators in the manufacturing sector as a whole which, in effect, is negatively affecting their ability to make an impact on export markets.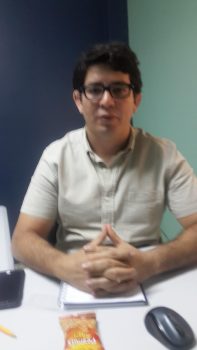 Malio says that the company has a strong interest in working with agro-processors and other manufacturers to help improve their packaging and labeling and by extension their global competitiveness.
What is considered to be sub-standard packaging and labeling is also felt to be the main reason why local mainstream food distributors stock a relatively low level of locally agro-processed produce. The company, Malio says, has been configured to produce quality packaging at relatively low cost.
Malio says that at the start of the company's relationship with small companies it will be aiming to provide them with pleasing standardized packaging based on a pre-made plate designed to accommodate basic information including company details, bar code, logo, nutritional facts etc. However, as small companies grow the company is prepared to offer higher quality packaging and labeling.
According to Malio since the company commenced production in July this year it has received several enquiries from companies in the region including one from Jamaica regarding the possibility of having cigarette packaging produced here. Several local small businesses have also been enquiring about the likelihood of their packaging and labels being done by Flexo Tech.
Around the Web