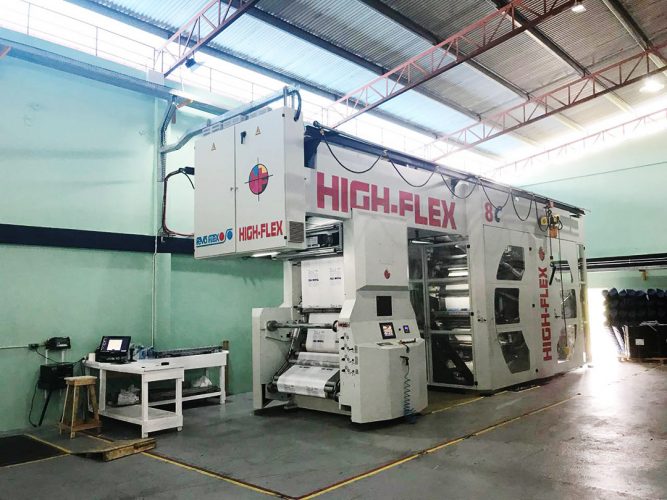 Try as it has, the local manufacturing sector has, up until now, been unable to rise to the level of labeling and packaging necessary to secure that elusive edge on the international market. If there is a widespread view that our local sauces, condiments and home-made confectionery are 'up there' with some of the very best in terms of taste, critics are no less emphatic about the serious qualitative weaknesses in our packaging and labeling at a time when those are arguably the most powerful marketing tools   that a product can have.
The recently established US$3 million packaging factory, Flexo Tech. Inc. is aiming to change the paradigm. It may not be an all-embracing solution, but Flexo Tech's General Manager, Brazilian Paulio Malio says he believes that the company can provide a sufficiently impactful transformative effect to cause both local and external markets to take much more than a second look at local products.
The advent of Flexo Tech arose out of the challenges associated with the timely acquisition of imported packaging for the local rice industry and primarily for the Berbice rice giant Nand Persaud and Company. In fact, the new company is the outcome of a partnership between the Brazilian company G-Sat Connection which sells silos, dryers and packaging machines to a number of local companies. G-Sat's clients include the Nand Persaud Group, Hack's Rice Mills, CARICOM Rice Mills and Guyana Stockfeeds Ltd. What the new company has effectively done is to remove the waiting time that had previously obtained to secure packaging ordered from China. At the local level the company has already been engaged by Banks DIH. Ltd. and Sterling Products Ltd.to meet some of its packaging needs…..
To continue reading this article
Comments

What had appeared for several months to have been sharp differences between the Ministry of Natural Resources and representatives of mining syndicates over land allocation that had effectively stalled the commencement of work by the country's first group of gold-mining cooperatives now appears to have come to an end following an encounter between the miners and Minister of Natural Resources Raphael Trotman.

While there are signs that talks on the huge debt owed by the city to Puran Brothers and Cevons Waste Management have been bearing fruit, dissonance continues even as the garbage crisis in the capital may be worsening.

The Guyana Mining School and Training Centre Inc.,in partnership with its stakeholders and supporting training partners, has begun training more than thirty five young adults in disciplines relating to the application of STEM (Science, Technology, Engineering and  Mathematics) to the exploration component of  upstream oil and gas operations.

Gold Prices for the three day period ending Thursday November 16, 2017 Kitco is a Canadian company that buys and sells precious metals such as gold, copper and silver.

With good grades in English Language and Mathematics increasingly being touted as a critical doorway to higher education and meaningful employment paths in Guyana," the Georgetown-based JTW Management Institute has launched the City and Guilds of London and English and Mathematics certificates as what the Institute's Director Jocelyn Williams is describing as a "second chance" for CSEC students and young school leavers.