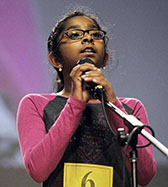 OXON HILL, Md.,  (Reuters) – Ananya Vinay of Fresno, California won the Scripps National Spelling Bee yesterday, taking home a $40,000 cash prize after 12 hours of picking her way along a precarious lifeline of consonants and vowels.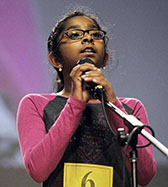 She correctly spelled the word marocain, a dress fabric made of warp of silk or rayon and a filling of other yarns, to win the 25-word championship round of the spelling bee held at the Gaylord National Resort and Convention Center in suburban Washington.
"It's like a dream come true. I am so happy right now," she told ESPN after the competition.
Competitors age 6 to 15 emerged from early spelling bees involving more than 11 million youths from all 50 U.S. states, U.S. territories from Puerto Rico to Guam, and several countries, from Jamaica to Japan.
In earlier rounds, some spellers tripped over words including Corriedale, toreutics, cleidoic and panettone, weeding down the field headed for the finish of the 90th national Bee.
Others hung on by correctly spelling catafalque, outarde and chryselephantine.
"What?!" exclaimed Maggie Sheridan, 13, from Mansfield, Ohio, throwing her hands up in disbelief when she learned she correctly spelled whirlicote, a type of luxurious carriage, with one second to spare.
It was not long, however, before she was foiled by the word saccharomycete, a yeast fungus, and fell out of the competition.
Marlene Schaff, 14, was ousted by misspelling cleidoic, which means to be enclosed in a relatively impervious shell, like an egg.
"I'm disappointed because I was debating between two spellings," said Schaff of Lake Forest, Illinois.
Her mother, Michele Schaff, who homeschools her two children, said she knew her daughter had a talent for spelling when, at age 1, she labeled the family cat with wooden letters.
"She was communicating with sign language before she had the vocal-chord abilities to speak," Michele Schaff said.
The youngest-ever competitor, Edith Fuller of Tulsa, Oklahoma, who turned 6 on April 22, was eliminated from the competition late on Wednesday.
New rules this year are aimed at preventing tie endings like last year's, when two joint winners both got $40,000 cash prizes.
Comments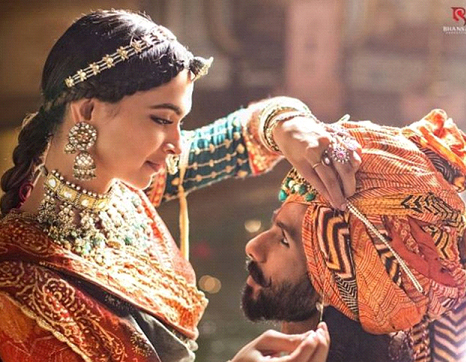 (Reuters) As "Padmaavat" completes 50 days in theatres, the studio that produced the controversial Bollywood film called for an environment where filmmakers are free to tell stories based on Indian history and mythology.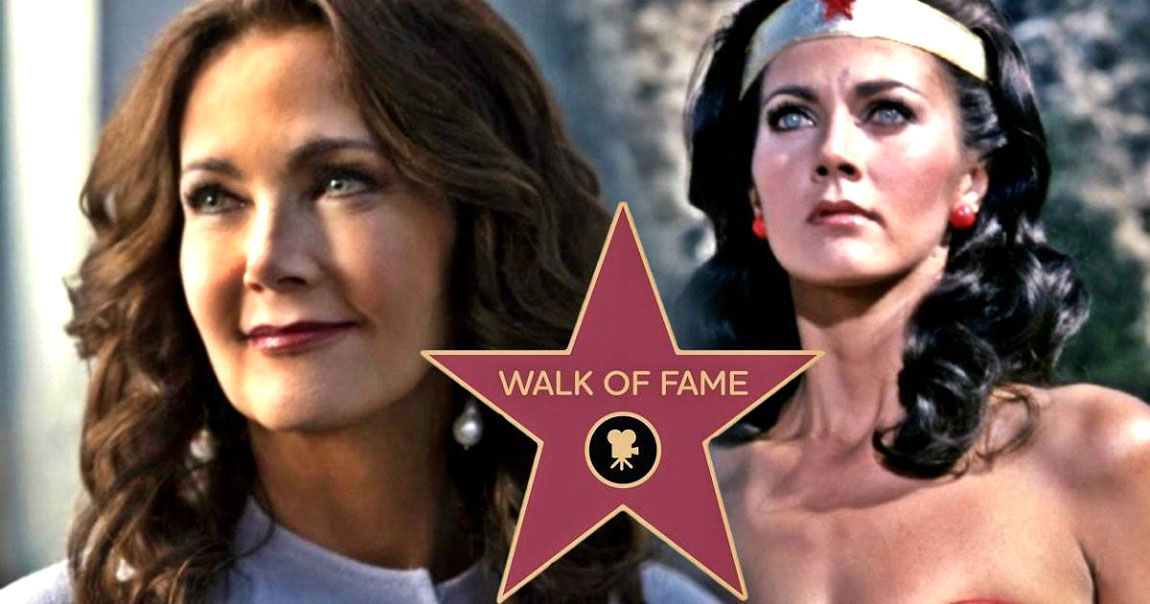 LOS ANGELES,  (Reuters) – With her arms crossed and poised for action, "Wonder Woman" television actress Lynda Carter was honored with a star on the Hollywood Walk of Fame on Tuesday as her most famous superhero character enjoys a big-screen revival.
HARRISBURG, Pa., (Reuters) – Defense lawyers at Bill Cosby's retrial on sexual assault charges can call a witness they say will undermine his accuser's credibility, a Pennsylvania judge said yesterday, reversing his ruling that barred the same witness from the first trial of the comedian once known as "America's Dad." The ruling to allow Margo Jackson's testimony came on the second day of jury selection for the second trial where the 80-year-old entertainer will face charges that he sexually assaulted a staffer more than a decade ago at his alma mater, Temple University in Philadelphia.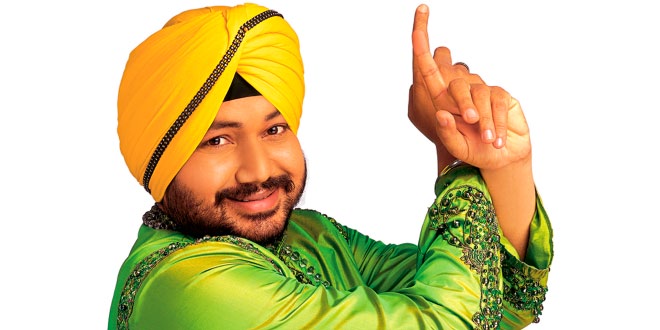 MUMBAI,  (Reuters) – Bollywood singer Daler Mehndi was handed a two-year prison sentence for human trafficking today after a court in north India found him guilty of smuggling people into the United States while on tour there twenty years ago.