LOS ANGELES,  (Reuters) – Oscar-winning movie producer Harvey Weinstein yesterday threatened to sue the New York Times after it reported that he had been the target of sexual harassment complaints.
After an initial statement in which Weinstein apologized for his behaviour, his attorney Charles J. Harder subsequently put out a statement saying the newspaper's story was defamatory because it relied on "mostly hearsay accounts and a faulty report."
The New York Times reported that Weinstein, 65, had reached eight previously undisclosed settlements with women who made allegations of sexual harassment and unwanted physical contact.
New York Times spokeswoman Danielle Rhoades Ha said the newspaper was confident about its reporting, adding that Weinstein "was aware and able to respond to specific allegations in our story before publication."
The alleged victims included an actress, a model and two assistants and their allegations spanned almost 30 years, the newspaper reported.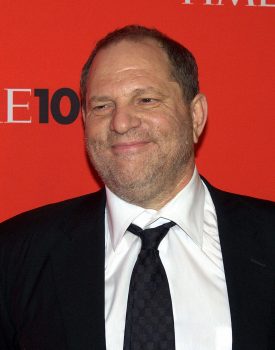 Reuters has not independently confirmed the New York Times report. Weinstein has not been charged with any crimes.
"I appreciate the way I've behaved with colleagues in the past has caused a lot of pain, and I sincerely apologize for it. Though I'm trying to do better, I know I have a long way to go," Weinstein said in his initial statement to the New York Times that was also given to Reuters by his lawyers.
"I've brought on therapists and I plan to take a leave of absence from my company and to deal with this issue head on," said Weinstein, whose Oscar-winning films include "Shakespeare in Love" and "Chicago." One of the women interviewed by the New York Times was "Double Jeopardy" actress and singer Ashley Judd.
The report quoted Judd as saying that two decades ago she had a meeting with Weinstein in his Beverly Hills hotel room where he asked if he could give her a massage or if she could watch him shower.
Judd's representatives did not immediately return requests from Reuters for comment.
Weinstein and his brother Bob formed independent movie studio Miramax in 1979. They later sold it and in 2005 set up The Weinstein Company.
Weinstein, who is married to Marchesa label fashion designer Georgina Chapman, is the latest U.S. media titan to be accused of sexual harassment.
The late Fox News chief Roger Ailes was forced out of the company in July 2016 after being accused of sexual harassment, which he denied.
Comments

LOS ANGELES,  (Variety.com) – With anticipation building for "Star Wars: The Last Jedi," Disney-Pixar's animated comedy "Coco" handily won its third straight crown at a moderate North American box office with $18.3 million at 3,748 sites.

PARIS, (Reuters) – Hundreds of thousands of people paid homage to late French rock and roll giant Johnny Hallyday at a Paris memorial service attended by French stars and politicians.

WASHINGTON,  (Reuters) – With the notable absence of President Donald Trump, the Kennedy Center yesterday celebrated singers Lionel Richie and Gloria Estefan, rapper LL Cool J, television producer Norman Lear and dancer Carmen de Lavallade with honours for the arts.

LOS ANGELES,  (Reuters) – Carrie Fisher's final performance as the beloved Leia in "Star Wars" puts the character on the front lines in a dark new chapter that reaches theaters this month, leaving a galactic hole to fill after the sudden death of the actress a year ago.
(BBC) Madame Tussauds has debuted in Delhi, with 50 wax models of Indian and international celebrities.