LOS ANGELES,  (Reuters) – Carrie Fisher's final performance as the beloved Leia in "Star Wars" puts the character on the front lines in a dark new chapter that reaches theaters this month, leaving a galactic hole to fill after the sudden death of the actress a year ago.
Fisher had filmed all of her scenes for "Star Wars: The Last Jedi," the eighth installment of the blockbuster space saga, before she died of a heart attack in December 2016.
"She's irreplaceable," Mark Hamill, who plays Luke Skywalker, told Reuters. "'Star Wars' is about great triumphs and great tragedies, and I can't think of a bigger tragedy than missing our Leia," Hamill told Reuters.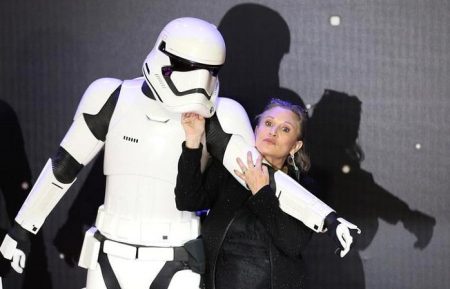 Writer and director Rian Johnson said he did not change Leia's story in "Last Jedi" after her death. The film debuts in theaters December 14.
It will be up to the makers of 2019 film "Episode IX" to decide the ultimate fate of the character first seen as a spunky princess in the original 1977 "Star Wars" film, Johnson added.
In "The Last Jedi," "we didn't tailor it to be a farewell to her," Johnson said. "But, that having been said, I think there's some moments that I think will really mean a lot to fans. You will see more from Leia that you haven't seen before."
Fisher's final film appearance is expected to boost already feverish interest in the franchise, now owned by Walt Disney Co . Boxoffice.com projects "Last Jedi" will haul in $185 million to $215 million at U.S. and Canadian ticket windows its first weekend, which would rank as one of the biggest film debuts in history.
The cast and director provided few details about the film's plot. John Boyega, who portrays former Stormtrooper Finn, said the movie finds Leia, now a general, leading the Resistance against the evil First Order during a tense time in the raging battle to protect the galaxy far, far away.
"There is a lot of pressure on the Resistance, and General Leia is on the front lines having to make big decisions," Boyega said. "It's a performance that requires a heartfelt approach, and she definitely had that."
Oscar Isaac, who plays Resistance pilot Poe Dameron, said the time in Leia's life mirrored Fisher's in some ways.
Leia understands "she's not going to be around forever, and there is a passing of the torch that needs to happen," Isaac said. "She wants to give over as much of her wisdom as she can before this moment happens."
Fisher, however, would not want fans to get too sentimental, Hamill said.
"I do know her well enough to say that she would want us to be laughing and even mocking her," Hamill said.
"She was irreverent, she was cynical, and she was bitterly funny and caustic and all these things. But she was always fun to be around," he added.
Comments

CHICAGO,  (Reuters) – Mexican-born actress Salma Hayek has joined the ranks of Hollywood women accusing movie producer Harvey Weinstein of sexual misconduct, calling him a "monster" in an article published by the New York Times on Tuesday.
LOS ANGELES, (Reuters) – Small-town dramedy "Three Billboards Outside Ebbing, Missouri" led the 2018 Screen Actors Guild (SAG) nominations yesterday in a list that shut out veterans Meryl Streep and Daniel Day-Lewis as well as Steven Spielberg's press freedom movie "The Post." Instead, SAG members recognized performers in independent films that focused on women and people of color, throwing open the race for the Oscars in March.

LOS ANGELES,  (Variety.com) – With anticipation building for "Star Wars: The Last Jedi," Disney-Pixar's animated comedy "Coco" handily won its third straight crown at a moderate North American box office with $18.3 million at 3,748 sites.

PARIS, (Reuters) – Hundreds of thousands of people paid homage to late French rock and roll giant Johnny Hallyday at a Paris memorial service attended by French stars and politicians.

WASHINGTON,  (Reuters) – With the notable absence of President Donald Trump, the Kennedy Center yesterday celebrated singers Lionel Richie and Gloria Estefan, rapper LL Cool J, television producer Norman Lear and dancer Carmen de Lavallade with honours for the arts.