THE Guyana Sugar Corporation's (Guysuco) formal diver­sified crops programme has been whittled down to concentrate on three main areas in the wake of the management takeover by Booker Tate and these may be subject to divestment shortly.
With Guysuco focus­ing on getting sugar production up to an annual figure of 250,000 tonnes, Director of Guysuco's Diversified Crops Division, Fitz Mc Lean told Stabroek News that the new management is "not too interested in diversified crops." However as a national programme, Mc- Lean contended that the diversified effort "has its merits" in the promotion of crops other than traditional ones which could me an impact on the local food programme.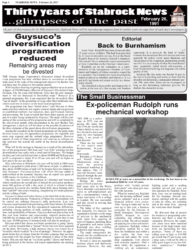 The programme has been "boiled down" said McLean to three main activities which do not require research inputs and can proceed on established methods: rice induction, dairy and livestock farming and processing. Mc Lean revealed that these three aspects are now part of a study being conducted by Guysuco. The study will be evaluating all the economics of the programme and will be completed by the end of next month. After presentation to the new Booker Tate manage­ment, a decision will be taken on the possible divestment of the three elements of the pared-down diversification programme.
Among the casualties in the formal programme are the grain crops division except rice, the aquaculture programme, the vegetable and roots crop segment and the orchard crops programme. How­ever aspects of some of these programmes will continue as ordinary es­tate activities but outside the ambit of the formal diversification effort.
What will be the savings to Guysuco as a result of the rationalisa­tion of the programme? McClean said "very lit­tle" pointing out that diversification was real­ly only a small part of Guysuco. The budget for this year's diversified activities is about $100M and McLean says profit is projected at about 10 to 20 per cent and will be higher as new prices for rice are likely.
Rice cultivation at Blairmont this year will be held at 2000 acres which is projected to yield about 2,500 tonnes of padi. In addition to this, about 10,000 tonnes of padi will be bought from rice farmers to feed Guysuco's five-tonne-an-hour mill which Mc­Lean added is under­worked at the moment. Guysuco has an export rice quota of 1,000 ton­nes for markets in the Caribbean.
The dairy and live­stock programme at Liliendaal and Versailles which constitutes the second part of formal diversification produces about 800 gallons of milk a day most of which is utilised in dairy process­ing. Livestock also in­cludes black belly sheep farming and a beef "spinoff" that entails breeding, slaughtering for estate purposes and the selling of bulls.
Guysuco's cheese and butter factory is the third link in the restruc­tured diversifed scheme. Production of these two commodities will be car­ried out utilising Guysuco's milk produc­tion. Last year Guysuco experimented with pur­chasing milk from farmers for butter and cheese production but this encountered numerous difficulties, including varying qualities of milk, spoilage, transportation problems and un­reliability of farmers. Guysuco does not plan to buy milk this year from farmers and consequent­ly, targeted production of 100,000 lbs of cheese and 23,000 lbs of butter is lower than it was last year. 28,000 gallons of skimmed milk will also be produced.
McLean added that cheese and butter production is going "pretty well" and he revealed that a "proper" boiler has now been ac­quired for the plant. Pre­viously, a high moisture cheese was turned out at Versailles which resulted "in a lot of spoilage". However the appropriate boiler free of charge from the Swedish company that has been associated with the project has been obtained in place of the other boiler. McLean said that an "excellent quality" cheese and butter is being produced at the factory and export op­portunities are opening up for it.
Back to Burnhamism
Editorial
Leon "Gun" Rockliffe has been dismissed after 19 years service at Bidco. This had been preceded by 23 years in the public service, first at the Deeds Registry then at the Attorney General's chambers. The reason? He co-­authored a report sponsored by a Civic Commit­tee on the Election Commission.
Rockliffe sat on the committee as a repre­sentative of the Georgetown Chamber of Com­merce and Industry of whose executive council he is a member. The Chamber has itself described the report produced as scholarly and objective. It is a perfectly legitimate and proper activity in a democratic society.
The dismissal is inexcusable and disgraceful. It strikes at the root of a free society and freedom of expression. It is precisely the kind of vindic­tiveness that devastated the civil service and more generally the public sector under Burnham and chased most of the competent, independent people out of it. It is an example of what Bertrand Russell once exquisitely called trivial self-assertion, a kind of pointless bullying that degrades the whole quality of life.
Incidents like this make one despair. It goes to the root of everything and seems to show that the dreadful old dictatorial, commandist at­titudes persist. PNC uber alles. There can be no progress as long as this demeaning behaviour persists. We deplore this shameful action.
Ex-policeman Rudolph runs mechanical workshop
The Small Businessman
"MY JOB as a policeman, in 1972, was not paying. My salary that was $198 per month and I had a family to care of. So I decided to leave and open my own business. Today, I am proud of that decision."
These are the words of this week's small businessman, 46-year- old Rudolph Gravesande.
Rudolph, of 43 Broad and Russell Streets, Charlestown, owns a small but growing mechanical workshop at that address. This 13-year-old business materialised through the perseverance of its owner.
During the latter years of his five and one-half years stint in the Police Force, Rudolph contemplated his move to self-employment and did a correspondence course in motor mechanics with a college in London. He was suc­cessful, and this served in moving him into busi­ness.
The father of five ex­plained that presently, his business has ex­panded to include a wide range of services in the mechanical field. Apart from repairing all types of engines, including those of generators and motor cycles, Randolph also does welding, bodywork and vulcanis­ing.
The small entrepreneur disclosed that his establishment at­tracts a varied clientele.
Several of them are reputable business places and diplomatic missions. However, his only problem with "cer­tain private individuals" who often give trouble with payment.
When he started out, Rudolph said, the busi­ness suffered "some severe setbacks" and as a result financial inflows were scarce. After "trying to make out" on his own up to last year, a business counsellor for the Institute of Small Enterprise Development [ISED] dropped in, coin­cidentally, and offered some advice to him. The advice included applying for a loan and technical assistance. Rudolph, without hesitation, ap­plied for a loan from the Institution and within a few weeks, the loan was approved and orders for workshop equipment, were placed with overseas suppliers. After a short while, the equipment, a welding set, air compressor, lighting plant and a sanding machine arrived and were put into operation by Rudolph. Since then, there was no turning back for his business. Several customers satisfied with the quality of jobs he offers, are return­ing and at the same time, "passing the word onto their friends."
He disclosed that at present his business is progressing satisfactorily and there is need for expansion. However, his expansion plans have been restricted because of the high rentals landlords are demanding for their premises. "Some of them are call­ing rents as high as $10,000 per month but if I am to pay such a large sum, I will not be able to offer good wages to my two full-time employees," Rudolph explained.
Around the Web