Amid the massive anti-government protests that have left at least 29 dead and more than 400 wounded, Venezuela's National Assembly president, Julio Borges — one of the country's top opposition leaders — told me in an interview that there are behind-the-scenes talks with Latin American presidents to create a "group of friendly countries" that would seek a negotiated solution to the political crisis.
In recent days, Latin America's biggest nations — including Mexico, Brazil, Argentina, Colombia, Peru and Chile — have signed joint statements demanding the restoration of the National Assembly's constitutional powers, the release of political prisoners and free elections.
"But there is an additional step that must be taken," Borges told me. "That step consists of the presidents themselves appointing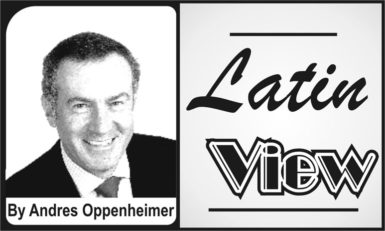 a group of heads of state or of friendly countries that really put pressure on the Venezuelan government to reach a democratic and constitutional outcome, so that we can have free elections."
That "group of friendly countries" would replace the failed mediation effort by the Vatican and the Union of South American Nations (UNASUR), which was used by President Nicolás Maduro to gain time while staging a de facto coup. During that dialogue, the Maduro regime abolished virtually all powers of the National Assembly, where the opposition had won a majority in the 2015 legislative elections. It also took more political prisoners, and banned top opposition leaders from running for office for up to 15 years.
When I asked Borges whether the opposition will accept Maduro's new offers of a dialogue in exchange for calling off its protests on the streets, the head of the National Assembly told me: "Any government offer that is not accompanied by guarantees from governments of the region will have zero credibility."
He added that "more than a new mediation effort, what is needed are guarantees from governments in the region" that Maduro will restore Venezuela's constitutional order.
The formula of a "group of friendly countries" has been used to seek to solve several Latin American conflicts in recent decades, including the Central American wars of the 1980s and the Colombian armed conflict in the early 2000s. It has also been proposed for Venezuela in the past, but the idea never got off the ground.
Now, the proposal is drawing growing support in Latin America because of the escalation of violence in Venezuela, and because of Maduro's April 17 announcement that he will give out 500,000 rifles to civilian militias to defend the government on the streets. Venezuela's neighbours fear that civilians who get these rifles will sell them on the black market.
Colombian President Juan Manuel Santos tweeted hours after Maduro's announcement that Colombia will bring the issue of "the militarization of Venezuelan society" to the attention of the United Nations.
"Over the past few hours and the past few days, I have had the opportunity to talk with most foreign ministers and several presidents from the region, and this issue — the weapons for the militias — is one that draws the most concern in most of these conversations," Borges said. "That's because these weapons will end up not only killing citizens of Venezuela, but also citizens of Colombia, Panama, Peru and Brazil."
Borges declined to say which presidents or nations could make up a "group of friendly countries." But I would not be surprised if the opposition picks Argentina — which has just taken over the rotating presidency of UNASUR, and whose president, Mauricio Macri, took a regional message about Venezuela to his April 27 meeting with President Donald Trump — along with Colombia or Peru, and the Maduro regime suggests Panama and Bolivia or Ecuador.
My opinion: Facing a growing death toll from its brutal repression of protesters, growing international isolation following its suspension of South American trade bloc Mercosur and its departure under pressure from the Organization of American States, increasing cracks within the government and an increasingly desperate economic situation, Maduro may have no choice but to accept a "group of friendly countries" to seek a face-saving way out of its crisis.
If the opposition is able to keep the pressure on in the streets, Maduro may have to accept a route to Venezuela's re-democratization, with free elections supervised by credible international observers this year.
Comments
Since the festival of Christmas commands a pre-eminent position – of observance and celebration – on Guyana's Annual Calendar of National Events, I thought I'd pen a few lines to provoke thought and meditation relevant to the "Real Reason for the Season".

To mark the anniversary of Martin Carter's passing on December 13, 1997, Gemma Robinson looks at Carter's Poems of Succession, published 40 years ago this year.
By Naicelis Rozema-Elkins It is about time, past due in fact, that the problem of sexual assault by teachers in our school system is addressed.

Focus on Guyana's National Budget 2018 represents the twenty-eighth edition of this Ram & McRae annual publication which highlights, reviews and comments on the major issues surrounding and raised in the National Budget.

By Mark Leonard LONDON – Over the last few weeks, media around the world have been saturated with stories about how technology is destroying politics.