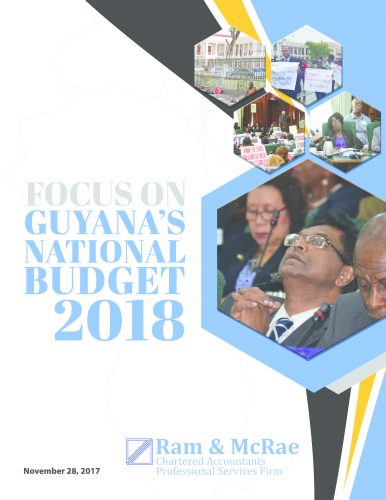 About this Publication
Focus on Guyana's National Budget 2018 represents the twenty-eighth edition of this Ram & McRae annual publication which highlights, reviews and comments on the major issues surrounding and raised in the National Budget.
Copyright Notice:
Focus on Guyana's National Budget, © Copyright Ram & McRae 2018.
The contents of this publication may be reproduced wholly or in part with due credit given to the Firm.
Published by:
Ram & McRae
Chartered Accountants
Professional Services Firm
157 'C' Waterloo Street,
North Cummingsburg,
Georgetown,
GUYANA
Telephone: (592) 226 1072 / 226 1301 / 226 0322
Facsimile: (592) 225 4221
E-mail: info@ramandmcrae.com
Website: www.ramandmcrae.com
Facebook: bit.ly/ramandmcrae
Cover: Images courtesy Stabroek News and INEWS Guyana.
Around the Web