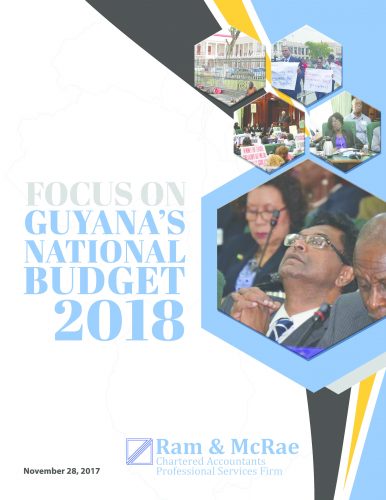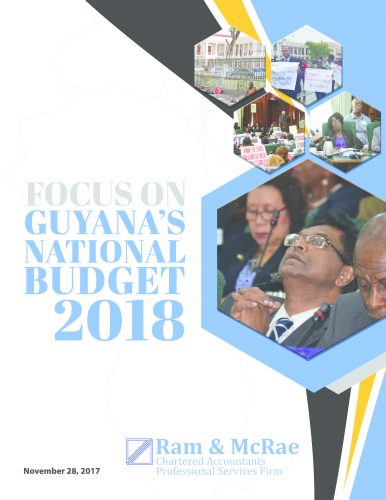 About this Publication
Focus on Guyana's National Budget 2018 represents the twenty-eighth edition of this Ram & McRae annual publication which highlights, reviews and comments on the major issues surrounding and raised in the National Budget.
Copyright Notice:
Focus on Guyana's National Budget, © Copyright Ram & McRae 2018.
The contents of this publication may be reproduced wholly or in part with due credit given to the Firm.
Published by:
Ram & McRae
Chartered Accountants
Professional Services Firm
157 'C' Waterloo Street,
North Cummingsburg,
Georgetown,
GUYANA
Telephone: (592) 226 1072 / 226 1301 / 226 0322
Facsimile: (592) 225 4221
E-mail: info@ramandmcrae.com
Website: www.ramandmcrae.com
Facebook: bit.ly/ramandmcrae
Cover: Images courtesy Stabroek News and INEWS Guyana.
Comments

To mark the anniversary of Martin Carter's passing on December 13, 1997, Gemma Robinson looks at Carter's Poems of Succession, published 40 years ago this year.
By Naicelis Rozema-Elkins It is about time, past due in fact, that the problem of sexual assault by teachers in our school system is addressed.

By Mark Leonard LONDON – Over the last few weeks, media around the world have been saturated with stories about how technology is destroying politics.
CARACAS/HOUSTON (Reuters) – Venezuela's unraveling socialist government is increasingly turning to ally Russia for the cash and credit it needs to survive – and offering prized state-owned oil assets in return, sources familiar with the negotiations told Reuters.
By Carl Bildt CHICAGO – We are now in the final days of the industrial age.