DEMERARA Woods Limited (DWL) the large state-owned timber company, has been sold by government to English investors for US$16.5m. Last Saturday an agreement was signed for the sale of the assets including trade receivables and the Kingston wharf site used by DWL. According to a GPCA release yesterday the purchaser is Demerara Timbers Limited, a company recently incorporated in Guyana which is owned by two trusts administered for the benefit of Lord Beaverbrook and Mr. Rupert Galtiers-Pratt respectively.
The purchaser will assume DWL's liabilities represented by trade payables, pensions and other employee benefits and other obligations under pending contracts. The remaining liabilities will be assumed by the State.
The arrangement includes a lease to Demerara Timbers Limited (DTL) for 5 years with a right of renewal for 2 years of the Christianburg wharf and a commitment to purchase and develop a wharf site at Charters, Demerara River, of between 20 and 100 acres and to build an access road from the Wismar- Rockstone road to the Charters site within seven years.
The overall price is US$16.5m not including lease payments or the price for the Charters site. DTL will assume possession and manage­ment immediately at its own expense. Govern­ment has the right to have a representative on the board until the comple­tion date.
DWL has been losing money and was one of the state entities iden­tified some time ago for divestment. The subject of considerable invest­ment by the State and with expensive modern equipment it suffered severely from inade­quate management.
The release says DTL will be embarking in a major rehabilitation and expansion programme.
Lacklustre start to Mash Week
by Al Creighton
WITHOUT fanfare, celebration or ceremony, and without even applause from a generally dissatisfied crowd, Kaiso Kid of Linden was crowned as Guyana's Calypso King for 1991 at the Mashramani Calypso Finals last Sunday night at the National Park. He won narrowly and controversially from a field of 13, scoring 237 points to edge out runner-up Calypso Stella (235) and third placed Sweet Patsy (231). The 1990 Monarch, Ras Marcus, finished down the field in eighth place with 199.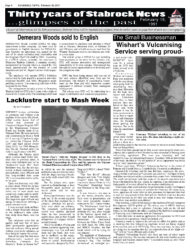 Although the Sunday night show seemed much better handled than in previous years, it was a very lacklustre start to the Mashramani week. M.C. Basil Bradshaw was, like the fair-size crowd, without ex­uberance, but proved better, more efficient and less long-winded than some MC's the crowd has had to suffer in the past.
There was however, very little to cheer about. While the tarmac and Eastern stands were full, the entire row of west stands was completely empty and the northern pavilions at half capacity. The stage was again without any design or decoration befitting a grand national event.
It was, as usual, stark and bare with a bright flood light shining in the audience's eyes rather than away from them, onto the stage.
The calypsoes were low on quality and very few of them drew spontaneous appreciation from the audience. Many passed without even polite applause, as they failed to inspire the crowd.
One of the very few that were enthusiastically received was defending champion Ras Marcus's "Licks in Round Six" in which he cast the national political arena as a boxing match with Dr. Jagan scoring a knock-out in the sixth round (after losing five).
But the judges once again showed a disinclination to look favourably upon political or social satire and he was dethroned.
Marcus'performance was the only one in the second segment of the show that sounded like a calypso, although his punch lines were often too ordinary. The extremely well behaved crowd was audibly shocked when he was announced in eighth place, just as they voiced disapproval at Calypso Stella's second placing.
While the number of King and Queen costumes appearing was, surprisingly, very few and most from just one band, they were not as mediocre as the songs. There were very good ones in terms of colour, workmanship and spectacle, designed by Peter Tang for G.N.E.C.'s band "FANTASEA."
"The Sea Devil" (Brenda Hooper) and Aids, "The Mighty Dragon" were the two most impressive Queen Floats   while "Poseidon" (Randolph Scott) was foremost in the King category.
It was, however, not easy to get the names properly since there were no programmes and they were repeatedly mispronounced by M.C. Hector Stoute.
The Mashramani Steel band and masquerade band competitions will take place tonight at the National Sports Hall. In the steel band competition, a showdown is anticipated between the Police Force band, the GDF band, the GNS band and BIDCO Invaders, the four bands which will be vying for top honours.
The highlight of Mashramani activities will be the hoisting of Guyana's flag 'The Golden Arrowhead' on midnight next Friday at the National Park.
The Small Businessman
Wishart's Vulcanising Service serving proudly
A 'SPUR-OF-THE-MOMENT' decision by a young man in 1976 has, today proved to be a wise one.
Courtney Wishart of Guyhoc Park was frustrated with the way things were going with his shoemaking business then. Materials for the trade were scarce and expensive. Customers were few, as most persons then preferred to buy new shoes and boots because it was far more economical to do so than to repair worn and damaged ones. He thought about quitting the business. But to do what, he questioned himself.
Courtney had saved some money from his previous job as a diver at a gold-mining camp in the interior, so money to invest in a small business was not the problem.
Some time later, pondering his fate, a man came along by sheer coincidence and enquired of him whether he was interested in buying some vulcanising equipment. The man was migrating and had
wanted to close his vulcanising business. Courtney, with no knowledge of the trade, decided to "try my hand at it" as the equipment was being sold at "very reasonable prices."
Fifteen years later, 'Wishart's Vulcanising Service' at the comer of Duncan and Sheriff Streets, Campbellville is a proud establishment
Operated by Courtney and his four full-time employees, the workshop provides a service that "motorists can count on." All types of tyres and tubes are vulcanised for a clientele that comes from "everywhere." The small entrepreneur said that some of his present cus­tomers have been with him from the start which, he explains, is an indica­tion of the high quality of service offered by his modest establishment.
Like many other small and even large businesses locally, the frequent power outages was a source of concern for Courtney. On many occasions, operators of motor vehicles who patronise his business have had to wait for long periods before their job are finished. Courtney became worried because he felt that very soon he may start losing customers. Then there was another coincidence!
One morning, a vehicle belonging to the Institute of Small Enterprise Development (ISED) pulled up. The driver, one of ISED's business counsellors, had a tyre to vulcanise. Courtney took on the job and before he was finished, the officer explained the Institute's programme of financing small businesses such as Courtney's.
A few days later he made an application for a generator to ISED and soon received a generator, which has helped a lot.
Courtney wants to improve the services he offers the public and so is awaiting two tyre vulcanising machines which are being shipped from overseas also with ISED help. These two machines, he says, will go a long way in ensuring that that the reintroduction of his "night service" will be "most efficient and reliable."
Wishart's Vulcanising Service also does any type of wheel repair and, said Courtney: We can also vulcanise the hot water bottles used in hospitals and vacuum cleaner belts." The establishment can also 'flare' brake lines, he noted.
Around the Web