COLDINGEN Workshop on the East Coast is a multi-million dollar maintenance facility built by the East Germans in 1980 and thrown into op­eration two years later.
It is the most mod­ern workshop of its type in the Caribbean and has facilities for line-boring, milling gears and splines, fuel injector tests, engine block reboring, manu­facturing bushels and the capability to modify a number of vehicle components which otherwise would have to be imported.
But after more than four years in opera­tion, the workshop still has a lot of "teeth­ing problems" which, to some extent, have seriously retarded its growth plans and pro­fitability projections.
Among the most seri­ous of these problems are the continued in­ability to attract and retain qualified staff, a huge sum of unpaid bills by government ministries and depart­ments, the burden of supplying nearby com­munities with stand-by electricity and short­ages of spares for some of its machinery.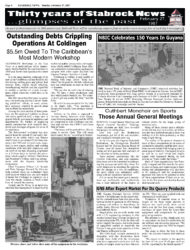 The State-owned workshop has now moved from the period of vast under-utilisation to an entity which can finance itself if only it can collect $5,5m from customers for 1985 and last year alone, negotiate its own wages, salaries and working conditions with potential employ­ees and rid itself of the task of paying employ­ees on a 24-hour basis to operate the power plant which supplies Melanie Damishana and President's College under an arrangement with the Guyana Elec­tricity Corporation.
Chief Executive Of­ficer L.V. Semple and Plant Manager Bernard Da Silva are both wor­ried about the work­shop's high staff turn­over which they say now makes it harder for Coldingen to ca­pitalise on a slow but steady increase in work orders from all around the country.
Semple and Da Silva, in an interview, ad­mitted that manage­ment is hand-tied by traditional public ser­vice rules and regula­tions which forbid Coldingen from offer­ing competitive remu­neration packages to compete with other re­pair facilities like Guy­ana Transport Services Limited.
Coldingen is willing to and capable of dealing with large orders "from anywhere" for its giant SC-14 lathe which can turn out components as large as four feet in diameter.
"We can also do with a lot of reboring jobs. We have a turret pro­duction lathe also which makes bushels, etc. We actually don't get any orders for that," said Da Silva.
He said it is uneco­nomical for the lathe to do single jobs. "The machine is designed to actually mass produce components.'"
Activity at the plant is expected to increase shortly, however, when discussions between management and the GTSL are completed so that Coldingen can service and maintain the GTSL's East Coast fleet of buses.
"The buses will be parked here. We are going to service them. This will mean more money for us," ac­cording to Semple.
Cuthbert Monchoir on Sports
Those Annual General Meetings
NEWS ON Annual General Meetings and Special General Members' Meetings where elections are held have revealed that purges are taking place.
Late last year the Badminton Association got rid of the old executive and installed a virtually new one.
So far this year, the Guyana Basketball Federa­tion, the Georgetown Football League and the Guyana Boxing Board of Control have all turned their executives inside out with precious few mem­bers of the old order retaining positions.
Some national associations, like the Cycling Federation, and area organisations seem not to be interested in undergoing that process and while they show this overt disinterest in affording the opportunity for change or a vote of confi­dence, the sport which they administer suffer along with the sportsmen involved.
It is no secret that many sports associations are inefficiently and ineffectively run, a clear indicator of the degree of interest shown by the larger group of administrators.
Many of these former sports administrators did not seek re-election, an indication that they had had enough or there was nothing in it for them personally or they were simply fed up.
The reality of the present situation is most of these associations are in states of compara­tive shambles and the new executives are now tasked with bringing them to some state of viability. The logical thing to do will be to start afresh and largely regard what transpired during the past periods as "water under the bridge."
Most of these organisations are financially strapped and that must be the priority area of focus, new innovations to fund-raising and ad­ministration will also have to be employed and the professional approach will have to be adopt­ed in most of these organisations if they are to survive in the first place and develop beyond their present state.
GNS After Export Market For Its Quarry Products
THE Guyana National Service (GNS) expects a breakthrough in the ex­port market for crushed stones later this year as the Service moves to generate its own foreign exchange and reduce its dependency on public funds, Director General Joe Singh told Stabroek News.
Negotiations are cur­rently under way with a US engineering com­pany to ship crushed stones from Guyana for highway construc­tion in the US, while the firm will in turn supply the spares, and some pieces of equip­ment needed to reac­tivate the Service's two giant stone quarries at Itabu and Teperu in Region Seven.
The GNS head, recent­ly promoted to Briga­dier, said that discus­sions have already been held with the Ameri­cans who have express­ed satisfaction with the quality of sample stone they have taken to the US. "They are also satisfied with our man­agement capabilities."
Production of crushed stone at the largest of the three major quarries in Guyana has significantly been scaled down over the last four years, owing to shortages of spare tyres for heavy-duty equipment and components for power generating systems.
The alternative to that, Singh said, was to concentrate on boulder production for sea defence and damming purposes. "We have the largest quarries, with the biggest potential.
Our stone is about the best in these parts," the Director General told Stabroek News.
"We expect an upturn in the quarries by June of this year. If all goes well we will be exporting by the fourth quarter."
Around the Web