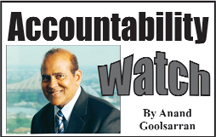 The news out of Nigeria, an oil producing nation, is that the court has ordered the seizure of a luxury apartment block owned by a former Minister of Petroleum Resources bought for US$37.5 allegedly from ill-gotten gains. This is in addition to a lawsuit filed by the U.S. Department of Justice seeking to recover US$144 million of assets, including an US$80 million yacht owned by two Nigerian businessmen who allegedly bribed the Minister to gain lucrative oil contracts.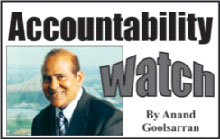 The Chicago Sun-Times carried an interesting editorial recently in which it highlighted the findings contained in a major draft new scientific report on climate change. This report, which was ordered by U.S. Congress and endorsed by the National Academy of Sciences, noted that the world is already experiencing higher temperatures and bigger storms and that climate change is no longer an issue relating to the future but to the present. The editorial bemoans the Trump Administration's efforts to actively promote deregulation, especially of the coal industry, thereby allowing more carbon dioxide to be released into the environment. The Head of the U.S. Environmental Protection Agency has also denied that climate change is man-made. The report made it clear that climate change has added significantly to the amount of rain and snow, especially in the Midwest, as well as to increased average temperatures. Across the United States, average temperatures since the 1980s have risen faster than at any time in the past 1,700 years, and each of the last three years has been the warmest on record globally. The report concluded that human activity has been the most likely chief cause of the global warming since the middle of the last century.
In our last two articles, we focused on global efforts to combat climate change following the signing of the Paris Agreement in 2016. The main thrust of the Agreement relates to the curbing of the use of planet-warming fuels and encouraging the generation and use of renewable sources of energy. The goal is to keep a global temperature rise this century well below two degrees Celsius above pre-industrial levels and to pursue efforts to limit the temperature increase even further to 1.5 degrees Celsius. The top four polluters of the environment account for 50% of the global greenhouse gases: China (20.09%), United States (17.89%), Russia (7.53%) and India (4.10%). It is worth repeating last week's Table I which shows the top 20 emitters of greenhouse gases: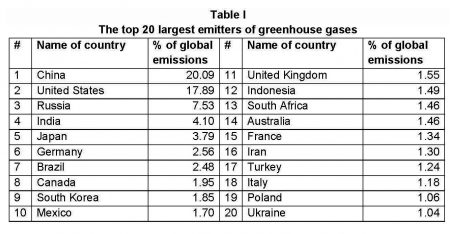 We discussed the commitment and efforts of the first six countries, in addition to France and Canada, in the furtherance of the goal of the Paris Agreement. Today, we will examine the efforts of countries closer home, starting with Brazil followed by the Caribbean countries before examining our country's own contributions.
Brazil
Brazil is Latin America's largest emitter of greenhouse gases, accounting for 2.48% of the total global emissions. Using 2005 as the base year, Brazil has pledged to cut emissions by 37% by 2025 and a further 8% by 2030. In the last ten years, it was able to reduce deforestation in the Amazon as well as to increase the generation of energy from renewable sources such as hydro, wind and biomass. Brazil is also committed to restoring or reforesting 12 million hectares of land by 2030.
According to the Natural Resources Defence Council (NRDC), headquartered in New York, Brazil could cut greenhouse gas emissions even further, to what represents a "fair share" of action for keeping global temperature rise to less than 2 degrees Celsius. It suggested that emissions could be cut by 57 percent relative to 2005 levels by eliminating deforestation and significantly expanding wind and solar energy. In addition, Brazil needs to diversify its energy investments—away from fossil fuels and hydropower and towards wind and solar energy.
The Caribbean
An article appearing in the July/August 2017 issue of the Caribbean Beat, a publication by Caribbean Airlines, referred to a survey by the U.S. Department of Energy which summarises renewable energy developments in the Caribbean as follows:
Aruba has set a goal of 100% renewable energy by 2020. In 2015, the island generated 15.4% of its energy needs from renewable sources;
Guadeloupe generates more that 17% of its electricity from wind, hydropower, geothermal, biomass and solar sources;
Belize has set a goal of 95% renewable energy by 2030. In 2015, 65% of its energy was generated from mainly hydropower and biomass;
Six more territories – Dominican Republic, Haiti, Curaçao, U.S. Virgin Islands, and San Andrés and Providencia – had renewable energy numbers of 10-20% while three others – St. Vincent & the Grenadines, Dominica and Bonaire – had numbers above 20%;
For eleven other countries/territories, renewable energy generation was at zero or close to it. These are: Anguilla, Antigua & Barbuda, The Bahamas, Barbados, British Virgin Islands, Grenada, Montserrat, St Kitts & Nevis, St Lucia, Turks & Caicos, and Puerto Rico.
The Department considers that most of the countries and territories in the Region as either almost entirely or highly dependent on fossil fuels, leaving them vulnerable to global fluctuations that impact directly on the cost of electricity.
The article also referred to a 2015 CARICOM report entitled "Caribbean Sustainable Energy Roadmap and Strategy" which made the following observation:
Many member states have taken the lead in setting targets, creating responsible agencies, and developing domestic policy mechanisms to support an increase in renewable energy and energy efficiency…Despite these important steps, however, sustainable energy development across the region continues to be limited by policy data gaps, administrative ineffectiveness, and often inefficient and uncoordinated implementation efforts.
Guyana
At the signing of the Paris Agreement in New York on 22 April 2016, President Granger reaffirmed Guyana's commitment to implement initiatives in the forest and renewable-energy sectors, including through the Reducing Emissions from Deforestation and Forest Degradation (REDD) Plus Agreement entered into between the Government of Guyana and Norway in 2009. The President stated that Guyana would move closer towards a 100% renewable power supply by 2025, conditioned upon appropriate support and adequate resources, and that through these efforts, Guyana can contribute annually to reduced emissions equivalent of up to 48.7 million tonnes of carbon dioxide.
Guyana has the second highest percentage of rainforest cover at about 85%, representing 18.48 million hectares of land. Its commitment to the Paris Agreement relates mainly to the preservation and sustainability of its forests as well as increased reliance on renewable sources of energy. Over the years, Guyana has been able to manage its forest resources in such a manner that it has one of the lowest deforestation rates in the world. In 2014, the gross rate of deforestation was 0.065% which was well within the range of 0.056 – 0.1% set by the REDD+ Agreement. The Agreement provides for the payments to Guyana of up to US$250 million to limit deforestation degradation rates as well as greenhouse gas emissions.
The verification of performance indicators under the REDD+ Agreement relates to: (a) gross deforestation; (b) loss of intact forest landscape; (c) forest management; carbon loss as an indirect effect of new infrastructure; (d) emissions resulting from illegal logging activities; and emissions resulting from anthropogenically caused forest fires. The results of the verification exercise covering the period 2011 to 2014 are shown as Table II: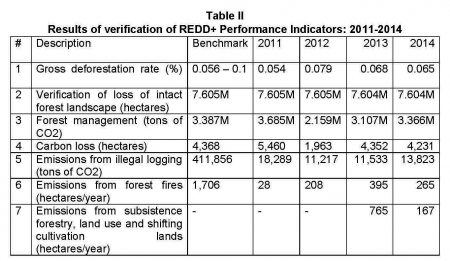 In 2012, after consultations with key stakeholders, the Government of Guyana entered into formal negotiations with the European Union on a Forest Enforcement Governance and Trade Voluntary Partnership Agreement (EU FLEGT VPA). The objective is to provide "a forest legality framework supporting sustainable forest management and trade, whilst improving Guyana's access to international markets". As of 2015, significant progress was made in relation to, among others, the drafting of various documents including a regulatory framework under which the partnership will operate; definition of what constitutes legal timber in the Guyana context; woodcutting tracking system; and communication and consultation strategy to advise on best practices.
Conclusion
It is indeed unfortunate that the United States has withdrawn from the Paris Agreement on climate change. It is now left for the rest of the world to intensify their efforts to reduce the emission of greenhouse gases to the limits and timeframe set by the Agreement. So far, the commitments made by many countries are very encouraging. Other countries need to follow suit if we are to save the planet.
Closer home, Guyana has made significant strides in relation to limiting deforestation. However, it is almost solely dependent on use of fossil fuels to generate electricity. It therefore needs to take tangible measures aimed at a distinct shift to renewable energy from hydropower, wind, biomass and solar sources. These are in abundant supply and perhaps may be a less expensive option, compared with the use of dirty fossil fuels.
Around the Web