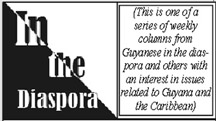 1930-2017
By Kwame Dawes
Kwame Dawes is the author of twenty books of poetry and numerous other books of fiction, criticism, and essays. In 2016 his book, Speak from Here to There, a co-written collection of verse with Australian poet John Kinsella appeared.  His most recent collection, City of Bones: A Testament (Northwestern University Press) will appear in 2017. He is Glenna Luschei Editor of Prairie Schooner and teaches at the University of Nebraska and the Pacific MFA Program.  He is Director of the African Poetry Book Fund and Artistic Director of the Calabash International Literary Festival.
Editor's Note: Six years ago Derek Walcott, the Caribbean Nobel Laureate who died in his beloved St. Lucia a few days ago, visited Toronto. It was the home of his late brother, the playwright Roderick Walcott, who died in 2000. The bulk of Derek Walcott's papers are held at the Thomas Fisher Rare Book Library at the University of Toronto, which mounted an exhibition and produced a wonderful catalogue for the occasion, 'How Beautiful My Brethren and Sistren: Derek Walcott Life and Work.' In it, Ted Chamberlin, now Professor Emeritus of English and Comparative Literature, described in vivid detail the process through which the University of Toronto acquired this incredible archive, a process that involved careful consultation with the University of the West Indies, whose resources "both financial and custodial, were limited…Sir Alister McIntyre, at the time Vice-Chancellor of the University of the West Indies, was involved in discussions from the beginning, and although he would have dearly loved to bring the material home, he realized that was not going to happen…he supported our initiative by waiving the University of the West Indies' rights to Derek's material in favour of the University of Toronto. Without Sir Alister's decision to do so, and the eventual support of his disappointed colleagues (including Edward Baugh, still the most important scholar of Derek's work), this could not have happened; and it should be noted that when his successor, the late Rex Nettleford, came to Toronto in November, 1999, for the formal announcement and opening of the collection, he too was enormously generous in his praise of the Fisher Library and the University of Toronto for keeping the collection within the wider Wet Indian family. Accordingly, it was described from the beginning as the University of Toronto/University of the West Indies collection, with that formality accompanied by a commitment to make material available to colleagues in the West Indies on a priority basis…our acquisition of the Walcott collection has brought important new material to the Fisher Library, including the complete archive of the Trinidad Theatre Workshop, arguably the most important cultural institution of the last half century in the Caribbean, which Derek founded and which came to the Fisher through his intercession."
In a moving public exchange with the Trinidadian-Bahamian poet Christian Campbell during his visit to Toronto, a conversation that was filmed and carried on Canadian television, Derek Walcott describes Caliban as an instinctually tribal poet, one who has been given the most beautiful lines in Shakespeare's Tempest: "Prospero can't make him a poet; he may teach him another language." He relates this instinctive relationship to artistic practice to the landscape of the Caribbean, "The refueling that happens to you daily in the Caribbean is to come outside your door, look outside and you see this astonishing thing that's going on, which is the light on the sea changing, it's just bewildering." Walcott elaborates what Christian Campbell describes as an almost interior relationship to landscape: "All of us, still, are growing up in a beautiful landscape and seascape, and that is what you are born to and grow up in. The presence of that landscape or seascape inside you is superior to whatever language you speak, it is stronger than whatever language you speak. A mountain, a bay, a beach, a tree, it is stronger than anything you write as a physical, beautiful thing, so that admiration is instinctual, whether you can write English or not. What authenticates and gives it language is this: You have the power of the beauty of the landscape around you, that's there, you can't pull it down, you can't criticize it, and there's no aesthetics particularly attached to it. Because you have that and because you are learning or practicing as a craft, practicing a language within that landscape, inside that landscape, it's bound to come out new and different and interesting…so that the young writer in the Caribbean can't help but be interesting because he or she comes out of that landscape or seascape that makes him want or them want to write and that is superior to the actual achievement in a sense."
The diaspora column offers our condolences to Derek Walcott's partner, Sigrid Nama, his children Peter Walcott, Anna Walcott-Hardy and Elizabeth Walcott-Hackshaw, his extended family and friends. We mourn the loss of this tribal poet of the Caribbean, part of a generation who languaged the shape and texture of our region with such care, such feeling, such awe. And we offer these words, for Derek Walcott, indeed for us all, from Kwame Dawes.
For Derek Walcott
1930-2017
Kwame Dawes
"…For no matter how many promises God has made, they are "Yes" in Christ. And so through him the "Amen" is spoken by us to the glory of God." Paul (2Cor.1:20)
In the black box, the lights isolate emotion
with theatrical efficiency—every gesture is art,
as if in the clean, rehearsed moments, the word
as the beginning of all things, and glorious yes
of possibility, must be followed by the congregants
saying Amen—this is the holy theatre, a world
I have come to think of as a home place, a shelter,
the womb of my art.  So there in that black box
deep inside a winter storm in Providence, they
tell me the old man has slipped into his first sleep,
and his editor calls each day to listen to the soft
ebb and flow of the sea in his breathing.  No one
wants to say "all is silence now", but we do know
that after the poem is over, what remains is a soft
pulse of the sea where we the Makaks of history
find our cathedrals, our history, our glorious tomb.
I did not expect the thickening pain in my throat,
as if I could fall down and weep—I did not expect
the moment to be like this, but it was and here
is the beginning of our lamentation.  For weeks
I have carried in my head the calculation of greatness—
how ambitious was the madman Lowell, how
full of the privilege of his New England elitism,
how it is that every time I think of the Boston police
coming to secure him and carry him to another dark
asylum, I can only think that I envy him the dignity
they afforded him; and I think that the St. Lucian
would have known that five white Boston cops
would not sit at his breakfast table while he shivered
and ranted and read for them "The Sea is History",
before deporting him to the asylum of fire and healing.
This is the way history arrests ambition.  We migrants stay
sane so that we can live to go mad in our secret chambers.
But the old man has slipped into his first sleep and at last
all his promises of last poems, last words, last
testaments, seem fulfilled.  This is not yet an elegy, merely
an effort to clear the glue in my throat, and a way
of saying that his art comes to me burnished with
so many grand yeses; and on this morning of grey
chill, I have learned to pray for language, just enough
to offer a word of company for the old man.  The word
is waves—not original, surely, but I offer it—the sea,
the soft waves reaching the coast, the pulling back,
the soft snore of a man waiting to leave the shore at last.
Kwame Dawes
Lincoln, Nebraska
March 16th, 2017
Around the Web