Trotman and Turbot
The good news
This column keeps meeting distractions from week to week. Column 17 last week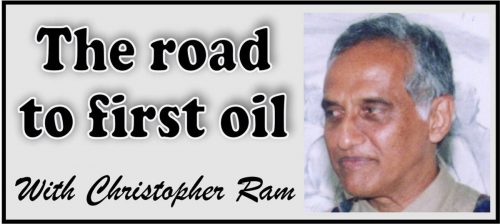 indicated that Articles 12 Natural Gas and 13 Valuation of Crude Oil would be addressed later in this series. They will have to wait as we turn to two issues taking place this week, one the good news and the other the bad stuff. Let us start with the good news first. Yesterday October 5, ExxonMobil Corporation announced yet another oil discovery offshore Guyana. This means that since the May 2015 announcement of a huge find we have had four other finds. Liza, Payara, Snoek and Liza Deep, and now Turbot. The well was drilled to 18,445 feet (5,622 meters) in 5,912 feet (1,802 meters) of water on Sept. 29, 2017. The Turbot-1 well is located in the southeastern portion of the Stabroek Block, approximately 30 miles (50 kilometers) to the southeast of the major Liza phase one project.
Guyana is blessed. All we can hope is that good and intelligent leadership and competent and careful management will ensure that we do not transform this blessing into a curse. Experience shows that nothing can be taken for granted, internationally or in Guyana…..
To continue reading this article
Comments

Part 19 Disposal of Production Recall that under a production sharing contract, costs are deducted from the value of production to arrive at profit oil to be shared between the contractor and the Government of Guyana in the proportion set out in the contract: Article 11.6.

Introduction Today's column looks at what is called Cost Oil, both in the petroleum industry around the world and in the Petroleum Agreements signed by Guyana with contractors.

Trotman's new Agreement Today's column seeks to address an issue which has largely gone under the radar because Mr.

There is a wide variety of petroleum contracts which countries, with the single exception of the USA, may choose to adopt.

The importance of royalty In the last column which appeared on August 17, I indicated that I would touch next on royalty in petroleum contracts.