As agriculture moves increasingly to the forefront of the Guyana economy the Guyana Review examines some of the key achievements of the National Agricultural Research and Extension Institute (NAREI) in 2016
April last brought rainfall after a prolonged dry season that started in 2015. The welcome rainfall moistened the parched farmlands and brightened the prospects of a more productive year (which was achieved). For the first half of 2016 the non-traditional crop sector in Guyana grew by 2.5 percent and is expected to grow by another 2 percent by year-end. Crop production is targeted to increase by at least 5% annually.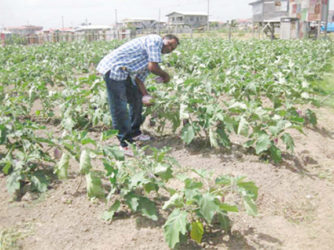 This achievement is owed to our hard working farmers and continued efforts by the (NAREI) to transfer climate smart practices to farming communities. Increasingly farmers are utilizing shaded cultivation, and practicing integrated pest management, water management, and crop diversification in their operations.
With the impacts of climate change being experienced already, NAREI has an important responsibility of researching and developing relevant and easily transferrable technology so that Guyana remains a food secured nation. Through-out 2016, NAREI was involved in a series of activities aimed at enhancing the non-traditional crop sector. The following are some areas of achievements:
 Resuscitation of the coconut industry
The wonder of coconut has been restored. In Guyana, it is estimated that there are 28,000 acres under coconut cultivation with an average annual yield of 92 million nuts. Investment by local businesses in value addition (mainly the production of virgin coconut oil and bottled coconut water) is a demonstration of confidence in this emerging industry.
As such, NAREI in collaboration with the National Stakeholders Platform finalized and launched the National Coconut Development Roadmap. The primary purpose of this roadmap is to facilitate the industry's competitiveness as stakeholders take advantage of the growing market opportunities. Coconut has over 100 uses and many countries are producing and marketing coconut by-products on a commercial scale.
Another important achievement for the coconut industry was the hosting of the first Coconut Festival during the month of October (Agriculture Month). This three-day event brought together key players in the local, Regional and International coconut industries. It allowed the exchange of information, open discussions on issues affecting the industry, and an array of product ideas. Coconut farmers were also benefited from a workshop which focused on selection of suitable mother palms.
One of the major issues highlighted during the festival is the lack of sufficient and high quality coconut planting materials. To assist in addressing this challenge NAREI is currently constructing a coconut nursery at Mon Repos. In addition to this, two other nurseries will be constructed at Charity and Wakenaam.
Red Palm Mite
One particular issue affecting the local coconut industry is the Red Palm Mite (RPM) pest. In 2013, the pest was first observed in Wakenaam, Region Three. Although the island was quarantined the pest spread to Pomeroon and other farming communities on the coastland. The situation became devastating during the 2015 El Niño period since the RPM thrives in dry conditions.
Thankfully, owing to interventions by NAREI and Government a temporary relief programme for farmers was undertaken. This initiative cost $49M to procure and distribute chemicals to affected farmers. It has resulted in approximately 1,000 farmers operating within coconut producing districts receiving the insecticide that is recommended for the treatment of the pest. Though the RPM cannot be completely eradicated, the spread can be reduced. NAREI has been encouraging coconut farmers to practice integrated pest management. This requires farmers to be vigilant for pests, practice farm sanitation and use chemicals responsibly.
Additionally, the Institute is currently rearing two types of natural enemies (the predatory mite, Amblyseius spp and the green lacewings) to combat the RPM. These natural enemies are beneficial insects used to reduce insect pest populations by providing an environmentally safe and economically viable long term solution.
Black Sigatoka Disease (BSD)
A major part of the Integrated Disease Management Programme for the Black Sigatoka Disease (that is being implemented by a partnership between NAREI and CARDI) was the hosting of farmer's field school trainings in Regions Three and Five. A total of 220 farmers were trained in areas of field sanitation; proper selection of planting materials; fertility management; pest and disease monitoring; fungicide application; water management; introduction of new cultivars; and  crop yield and productivity.
NAREI benefited from another component of the Integrated Disease Management Programme which was the introduction and evaluation of BSD tolerant varieties.  Tissue culture planting materials were obtained from the International Institute of Tropical Agriculture (IITA), Nigeria and Bioversity International, Belgium. They included three banana varieties FHIA-02, FHIA-03, and Grand Naine, and nine plantain varieties.
In October, three demonstration plots were established at Mon Repos, Mahaica (Litte Biaboo) and Parika Backdam. All plots were planted with five varieties of the nine plantain varieties. These are currently being monitored by researchers from NAREI and CARDI. These varieties will be evaluated in 2017 to identify the most suitable variety/varieties to be grown in Guyana.  The presence of the RPM and BSD exemplifies the susceptibility of crops to pests and diseases in an era where weather conditions are unpredictable and sometimes extreme. As a country heavily dependent on agriculture, the diversification of crops is a safeguard to ensure food security. Continuous efforts to plant exotic crops such as cauliflower and sweet pepper and introduce new varieties have paid off. This period saw Guyana importing less of these commodities. Several new crop types introduced are breadfruit, Pik Ripe tomato, watermelon, Irish Potato, and cassava.
Breadfruit: In response to a call made by President David Granger to increase breadfruit production with the aim of agro-processing, NAREI acquired over 100 breadfruit seedlings. Currently, the Institute is conducting research to establish whether the different varieties could adapt to Guyana's climatic conditions. NAREI also plans to establish a 30-acre breadfruit plantation in Bartica, Region Seven. Once the evaluations are completed some seedlings will be distributed to farmers.
Pik Ripe Tomato: Tomato is a major cash crop grown by farmers throughout Guyana. The quantity of tomatoes produced locally is more than sufficient for the domestic market. Recently, NAREI partnered with a private farmer to produce the Pik Ripe variety. This is a high quality hybrid tomato produced in Mexico. It is sturdy and has a fruitlike quality. The feedback received about this variety was favourable. The average mass obtained from a Pik Ripe tomato is 125g while the average mass for the Mongol variety is 120g.
Watermelon: NAREI is currently evaluating two varieties of watermelon (Sangria and Greybelle). The main aim of the project is to introduce new watermelon varieties so as to end the dependency on the Mickey Lee variety. The new varieties' growth, development and production are being monitored and compared to the Mickey Lee.
Irish Potato: NAREI partnered with PROPEL to secure certified planting materials from Jamaica. The materials are being tested to determine suitability to local conditions. In keeping with Government's emphasis on expanding agriculture in the hinterland NAREI conducted successful trials in Puruni, Region Seven and Kato, Region Eight. Trials were conducted at Kairuni and Laluni on the Linden- Soesdyke Highway and at NAREI's Mon Repos location under shaded conditions.
Cassava: This is one of the most important staple crops in Guyana. Cassava can be stored underground for several seasons making it the ideal root crop for food security. To increase production locally NAREI introduced a group of improved varieties from CIAT Columbia in January. Field trials with three different improved varieties of cassava were conducted at NAREI's Research Station at Mon Repos to determine the best planting period and growing cycle, root yield potential, and pest and disease resistance. The numbers of roots per plant and root yield per plant were obtained nine months after planting. These varieties will be re-evaluated a second time to generate planting materials and to ensure all the characteristics are maintained.
Importantly, the production of cassava production is becoming mechanized with NAREI acquiring a mechanical cassava planter and mechanical cassava harvester. The mechanization of cassava production could facilitate  valued added cassava products such as cassava flour to the growing list of products that are exported. The use of grated cassava in the baking industry is a notable achievement.
Sweet potato: NAREI introduced a new variety of sweet potato (Beau regard) obtained from Jamaica to the farming community. At the same time a trial was conducted to highlight the importance of adequately irrigating sweet potato plants. Through, farmers' field school sessions the advantages of using sprinkler irrigation and the new variety were demonstrated to farmers.
Spices
Presently, spices such as black pepper, ginger and turmeric are grown in specific areas of Guyana due to climatic conditions and soil factors that are conducive to these commodities. The hinterland regions of the country are more suited to spices cultivation. Although, many spices are not grown locally, the demand for spices in Guyana is relatively high. Some products available on the domestic market are curry powder, garam masala, jeera powder, turmeric powder, black pepper powder etc. These products are manufactured in Guyana but the raw materials are imported.
Presently in excess of 100 farmers are cultivating turmeric, ginger and black pepper in nine of the 10 Administrative Regions of Guyana. Farmers of Region One, Barima Waini cultivated 40 acres of turmeric and 120 acres of ginger in 2016. A ten-acre plot was cleared at Hosororo, Region One to accommodate the cultivation of black pepper, turmeric, ginger, nutmeg, avocado, citrus etc. The turmeric and ginger rhizomes emanating from this plot will be used as planting materials. Additionally, a portion of the turmeric rhizomes will be supplied to the turmeric factory that will be operational shortly at Hosororo.
During the year, 4,000 black pepper cuttings and 700 nutmeg seedlings were multiplied in the nurseries at Mon Repos and Hosororo, most of which were distributed to farmers. More farmers are now cultivating black pepper since they are aware of the health benefits and the high economic returns that can be gained from black pepper cultivation.
Tissue culture of breadfruit
Apart from in field trials and demonstrations, a significant portion of NAREI's researches are done at its n-house  laboratories. The Plant Tissue Culture Laboratory is involved in research to develop a protocol/method for in vitro propagation of Breadfruit. In this method shoot tips from adult plants are used for propagation in sterile nutrient media under controlled environment conditions. In Vitro propagation produces seedlings at a faster rate and in larger quantities, thereby having more planting material for farmers. The regenerated breadfruit plantlets produced by this method are free of bacterial, fungal or virus contaminants and are vigorous and rapid growing. The production of these plantlets provides the opportunity for large scale development of the crop for security and commercial production.
Expansions
NAREI has expanded its orchard at Ebini by 10 acres. To complement this expansion, a shade house is currently being constructed to house seedlings before they are transferred to the fields. This will add to the existing nine acres that are being cultivated with soursop, oranges, limes, tangerine and mangoes just to name a few. The objective of the expansion is to establish a germplasm of orchard crops, which will provide a ready supply of seedlings to farmers living in nearby riverine communities.
In Kato, Region Eight NAREI is expanding its current facility to establish an Agriculture Station to expand hinterland agriculture. The intention is to establish a nursery and a model farm demonstrating the various crops grown in the Region.
 Partnering with private companies
NAREI has facilitated the large scale production of corn and soybeans in the intermediate savannahs. After two years of successful trials of different varieties of corn and soybeans NAREI was able to provide data on which varieties would be best grown in the area to Brazilian company, New Frontier Agriculture Guyana Incorporated. The company is currently working to develop the approximately 10,000 acres of land in the intermediate savannahs. This farm will be used as a model demonstration station for development of the entire savannahs. Improved pastures for cattle, sheep, goats and horses are also planned.
In addition, NAREI is supporting Amazon Caribbean Guyana Ltd in its venture to expand the non-traditional crop sector in the Berbice River. The company is planning to invest US$2M in developing a 500 acres organic farm comprising pineapples, mangoes, watermelons and papaws at Herstelling, Berbice River. The produce will be processed and exported.
Continued Services
There are many intricacies of the agriculture sector that go unnoticed by many. Every day NAREI's staffers are engaged in behind the scene activities that make Guyana a food secure nation. Crucial to plant production in Guyana is healthy soils. NAREI has a well-equipped laboratory for soil testing and on the spot soil pH testing is offered for free. Only, recently NAREI acquired a soil testing kit from PROPEL that could boost the services offered at farmers' clinics across the country.
The institute is also involved in insect pest identification and treatment. Research Scientists and Research Assistants of NAREI's pathology and entomology laboratories are actively engaged in research and development to combat certain pests. Currently they diagnose different pests and diseases and are working specifically to develop a number of biopesticides using locally available organic materials.
Another, achievement is the supply of quality planting materials. Farmers and residents have been purchasing seedlings and budded plants from NAREI's nurseries to increase local production. There is great demand for citrus, sour sop, sijan, mangoes among others. All these and an array of other plants and seeds are available at NAREI for sale.
NAREI continues to have a presence in all the 10 Administrative Regions of Guyana. The extension personnel are in constant communication with farmers offering them technical support. As a consequence, farmers are becoming fully aware of adaptive measures to climate change. Noticeably, green agricultural practices are being used by farmers. These include the use of pheromones and biopesticides, vermicomposting and cultivation under shaded conditions. The establishment of demonstration farmers in all districts allows the easy transfer of technologies whilst gaining the confidence of farmers.
With all its challenges and successes in 2016, NAREI has plans to continue serving farmers and ensuring continued growth and development in the non-traditional crop sector.
Around the Web