A policeman yesterday testified that Sharmila Inderjali and Maryanna Lionel offered him $4 million in cash to release the accused in the murder of Number 70 Village carpenter Faiyaz Narinedatt.
Detective Sergeant Kamal Pitamal, who is stationed at the Criminal Investigation Department (CID) and attached to the Major Crimes Unit, said that the women also explained that the payment was to allow accused Marcus Bisram to re-enter the country without being arrested.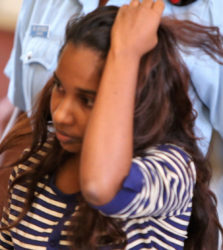 The charge against the two women states that they corruptly offered $4 million to Pitamal on November 19, 2016, at Eve Leary, to forego charges against the suspects in custody for the murder as well as Bisram, who is overseas and is wanted by local authorities.
Testifying at the commencement of their trial before Magistrate Leron Daly in Georgetown yesterday, Pitamal said that on November 18, 2016, he was on duty at CID headquarters when he was contacted by Inspector Seeraj Singh and given instructions in relation to an attempt to pervert the course of justice by two of the six men allegedly involved in the murder, Radesh Motie and Harri Paul Parsram.
The two are charged along with Bisram, Orlando Dickie, Diodath Datt, and Niran Yacoob with the murder of Narinedatt. Bisram, police have alleged, procured and commanded the men to murder Narinedatt between October 31 and November 1, 2016, at Number 70 Village, Berbice.
According to Pitamal, he was told to set up a sting operation, which he did the next day.
Around 9.30 am, he recalled, he was at his desk when he was approached by two women whom he later learned to be Inderjali and Lionel. He said that the women told him that they were asked by Motie, Parsram and Bisram to hand over the $4 million to the police dealing with the investigation for them to release the suspects.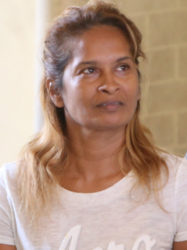 He said it was Lionel, in the presence of a Woman Sergeant, who took out two black bulky plastic parcels with the money. "This is the money, de $4 million fa ayo lose mi daddy and di res a man dem," he recalled her saying. "An nuh fi lock up Marcus when he come in," he recounted Inderjali adding. Inderjali is Bisram's mother.
The court heard that Pitamal proceeded to open the parcels and observed a quantity of $5,000 and $1,000 notes. He said he then told the defendants that what they were doing was a crime, which caused Lionel to cry out, "Ow me God me guh dead now! Ayo don't do da to ah we!"
While Lionel uttered these words, her accomplice allegedly attempted to leave the area but was stopped by Pitamal, who alerted a desk rank.
The duo were then cautioned, he said, which caused Inderjali to cry and say, "Ow me God! Ayo help me nuh? Ayo gon mek me son can't come home!"
The women were then arrested by Woman Sergeant Benjamin and placed into custody.
It was further stated that in the presence of the defendants and the Woman Sergeant, the money was counted and it amounted to $4M.
Police Prosecutor Kevin London then requested that the yellow envelope that contained the money and its contents be entered into evidence.
This request was granted by Magistrate Daly.
Prosecutor London also tendered the two black bags used to carry the funds and a cream-coloured bag that belonged to Inderjali.
Magistrate Daly suspended Pitamal's testimony, which he is expected to resume today.
Around the Web