The Society Against Sexual Orientation Discrimination (SASOD) is convinced that Guyana sold its vote on the United Nations resolution on funding for a Lesbian, Gay, Bisexual, Transgender and Intersex (LGBTI) rights envoy to the Organization of Islamic Cooperation (OIC).
Managing Director of SASOD Joel Simpson told Stabroek News on Thursday that claims by the Ministry of Foreign Affairs that the envoy's mandate lacked specificity was a "blatant lie," which was used in a desperate attempt to justify a vote which is not in tandem with Guyana's general position on such issues.
He stressed that the ruling APNU+AFC coalition campaigned on a platform of equality and justice and that President David Granger as well as the former and current ministers of Public Health and Social Protection have publicly stated their support for equal access to basic services. "They [the government] must realise that this vote doesn't match their position or rhetoric. Our view is that Guyana's vote was influenced by the OIC. Our analysis of the voting records, which went through four rounds, show that until Round 2, Guyana and Suriname were the only two Caricom countries voting against this funding," Simpson explained.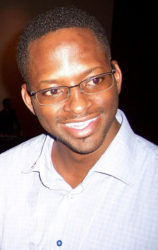 He noted that after the second round of voting, Suriname was called out by Human Rights Watch and began abstaining. Guyana, however, continued to vote against the funding in line with the members of the OIC.
"It was backward, especially the final vote on the 23rd of December where Guyana voted to deny funding to the mandate holder. That was backward and desperate. Once the vote had passed through all the committees and it was clear that the General Assembly was by majority vote saying that the mandate was legitimate, to then deny funding and try to make its work ineffective was desperate and backward," the activist declared.
According to Simpson, his organization is of the view that Guyana allowed itself to be influenced because it is seeking funds from the Islamic Development Bank.
"Guyana was influenced by the OIC to vote a certain way because we want to get money from the Islamic bank. Our vote was sold and I hope that, at the very least, they sold it for billions of dollars in grants and interest-free loans," he declared. "If we are going to sell out our principles, we shouldn't do it for a pittance," he added.
In a statement to the press, the Foreign Affairs Ministry last week had explained its vote by arguing that the mandate of the office lacked specificity. "Guyana noted that the mandate of the Independent Expert lacked the necessary specificity to be effectively undertaken. Furthermore, it felt that the African Group draft resolution sought to give Member States, particularly those without representation in Geneva, an opportunity to examine the Council's resolution and determine the legal basis on which the  special procedure to be established for implementation of the mandate of the Independent Expert would be defined. A position which Guyana supported based on its own situation," the statement said.
For Simpson, this explanation does not stand up to scrutiny. "What can be more specific than saying this is an independent expert who is going to be focused on the issues of violence and discrimination based on sexual orientation and gender identity? How much more specific than that can you get?" he asked.
Noting that hate crimes specifically against LGBT persons are committed all over the world even where there is equality and protection for person, Simpson stressed that this violence is so pronounced that it needs special attention.
He further clarified that the special rapporteur's mandate is very narrow as it focuses only on hate crime and access to basic services, not about broader equality concerns and he reminded that only a few months earlier Guyana had voted in favour of a much broader resolution at another multilateral organization.
''Each year, a resolution on LGBTI rights is brought to the Organization of American States (OAS) General Assembly and Guyana voted in its favour without reservation this year. This is a broader resolution around human rights, sexual orientation and gender identity. How can you vote positively for a broader resolution then at the level of another organization vote negatively for something narrower?" he questioned.
From 2008 to 2012, the previous administration had voted for the OAS resolution but in 2013 and 2014 it voted against.  This voting pattern was maintained by APNU+AFC coalition in 2015 but after the intervention of the Guyana Equality Forum, Guyana supported the resolution in 2016.
Addressing the concern raised about the legal basis upon which the envoy would function, Simpson explained that the mandate carries three specific objectives, including examining the situation all over the world and seeing how international law can be applied to fill gaps in domestic law. "This would require a global scan but the UN process only provides for access at the invitation of the state. There is no chance of the rapporteur operating in Guyana without the government's invitation. Guyana, unfortunately, is not one of those countries which has an open invitation. Permission would have to be sought or an invitation extended," he added.
Around the Web