After persons lit a fire at the Bartica dumpsite, which spread to almost the entire landfill, Mayor Gifford Marshall says the municipality will embark on a sensitizing programme to ensure that residents are adequately informed on the proper waste disposal methods.
Marshall explained to Stabroek News that on Wednesday around 5 pm he received a call which indicated that there was a fire at the Byderabo dumpsite.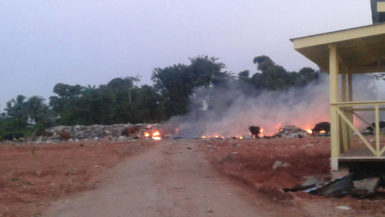 "I immediately called the fire service, which was quick to state that their truck is not working," Marshall said, while pointing out that it was then left up to the council and persons from the community to fight the fire that was spreading.
"The Mayor and Town Council is becoming very concerned over what we consider irresponsible behaviour by some residents and in this case a financial institution," he said, while explaining that according to the information that was received, it was a local bank which had started the fire at the dumpsite in a bid to dispose of "important documents."
While they were able to contain the fire and prevent it from becoming a catastrophe, Marshall said he was urging the citizens and businesses to ensure that they got rid of their waste properly.
"A clean, healthy and safe environment is a reasonable demand of any administration, be it national, regional or local government. What transpired last week served as a wakeup call for the municipality and exposes further, the vulnerability of the waste management system and sensitization programmes," Marshall related.
He added that a year ago solid waste was a burden, an environmental crisis and a health hazard. However, today, with the support of the government and stakeholders, they have been able to do "much better" but are still some distance off from where they want to be. "With a small population of just under 15,000, we are committed to modelling best waste disposal practices, which will not only enhance the aesthetics of the township but positively impact on the health of its citizenry," he added. He said that currently the council was expending millions of dollars per month to ensure that the town was kept clean, which included the dumpsite that was rehabilitated recently through funding from the government.
In order to prevent a reoccurrence of last week's fire, Marshall said, the council will be placing even greater emphasis on sensitization since "an educated populace on integrated solid waste management may be the answer to a cleaner, greener Bartica."
Noting the challenges the municipality has in moving forward, he said that they cannot invest only in machinery and equipment but also the populace. "Therefore, a massive sensitization programme, targeting every resident has now become a priority. Residents, businesses and institutions must understand their responsibility in achieving the goal of a cleaner, greener Bartica. It must not be taken for granted or assumed that the citizenry understand or know," he said.
While the council has not received any official word from the bank, Marshall said he was hoping that it will note its corporate responsibility and apologize to the residents who were affected by the heavy smoke.
"If banks are going to destroy documents then it must be done in an environmentally friendly manner. They must invest in the requisite facilities or equipment," Marshall urged.
Around the Web