Suriname shrimp importers and sellers yesterday afternoon held a counter protest in front of the Office of the Prime Minister's Representative in Port Mourant, Corentyne in response to local shrimp vendors who protested on Friday to have the Suriname shrimp banned from coming into Guyana.
According to the Suriname shrimp importers and sellers, they depend on the Suriname shrimp to make a living for themselves and family.
Rajendra Roberts, 41, one of the protesters stated that he does not mind paying a fee to bring the Suriname shrimp into Guyana, but has no choice but to smuggle the shrimp into the country as local authorities refuse to accept the documentation he has from the Suriname authorities. "The problem we have, me a bring shrimps from Suriname but when we come here now the custom a make me take the shrimps and throw it away," he complained. "Me na mind pay a duty when me come here but me na want to smuggle the shrimps into the country. Me just want make a living." According to the importer, Guyana does not have as many shrimp ponds as Suriname thus it is easier to import a large quantity of shrimp from Suriname.
Roberts refuted all claims that the Suriname shrimp was unhealthy owing to the long period of time it takes to get it here. "If it na been good we na would a sell it and people na would a buy it," he noted.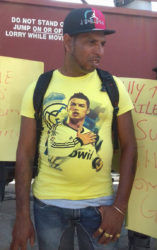 A shrimp vendor said, "Is not about the profit is about we job and we only want make a living." The vendors at yesterday's protest stressed that jobs are being threatened and that if Guyana's authorities step down on the Suriname shrimp, their lives will be disrupted and providing for their families will be an even more difficult task, since they would have to look for new avenues in earning money. On Friday afternoon, a protest was held against the illegal importation of shrimp and tilapia from neighbouring Suriname into Guyana. The Corentyne fisher folk protesting said that the illegal seafood was being sold at a low price and was very damaging to their businesses and also difficult to compete with.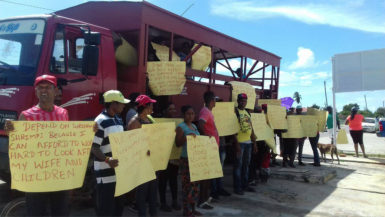 According to Suedat Persaud, Secretary of the East Berbice Aquaculture Association the protest was held since the importation of the illegal shrimp and tilapia had escalated to a larger scale. He said, "Large quantities are coming in daily and it is affecting local markets and overseas markets."
He stated that the items were smuggled through the back track route from Suriname to Guyana and this was tremendously affecting the livelihood of the Guyanese fishermen and their families. Persaud explained, "Our cost of production is higher compared to Suriname. They have a big shrimp pond there where they go catch freely and sell." He noted that it is the absolute opposite for the Guyanese fishermen since they have to use "excavators to construct farms. We have to hire watchmen, sellers and so, a lot of cost."
He said they will continue to take a stand against the illegal importation until the relevant authorities look into the issue and create a solution. "We want to send a message to the relevant authorities that if we do not get a feedback or a solution is not given to us we will continue to protest," Persaud said, while noting that numerous letters will also be written to the press.
Gobin Harbhajan, the Prime Minister's Representative told the protesters that he will ensure that their concerns are furthered.
Around the Web