Four fuel tanks located in the compound of Noble House Seafoods, Bagots-town, East Bank Demerara yesterday afternoon burst into flames, but a quick response by the Guyana Fire Service prevented it from spreading.
According to reports reaching Stabroek News, around 13:45hrs yesterday, workers were transferring fuel from one of the tanks to the trawlers when a valve in the pump blew causing the fuel to spill. The fuel subsequently came into contact with the pump exhaust and ignited.
As a result, the person who was pumping the fuel became afraid and reportedly ran away, leaving the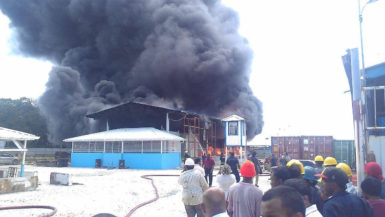 pump valve open, causing continous flow of fuel throughout the fire fighting operations.
The fire started in one of six tanks and quickly spread to three others.
Officer-in-Charge of Operations at the Guyana Fire Service Compton Sparman told reporters that after receiving a report of the fire, three fire tenders – one from West Ruimveldt and two from Central Fire Station were immiedately dispatched.
"When they arrived on the scene, a tank of diesel was engulfed in flames, threatening three other tanks," Sparman explain-ed. He said firefighters immediately began to work on extinguishing the fire. However, because of the magnititude of the fire and the materials involved, it did spread to the other three tanks before they were able to quell it using foam.
When this newspaper arrived at the scene,  a large crowd had gathered. Some of the staff were sitting outside the compound while others gathered around the security hut discussing their next move.
One woman was heard saying, "They have to pay me my money still… We have a union which will intervene if they don't." A male employee said he was at the back of the compond when he heard a loud explosion. "Everybody start run and me myself run for safety," he said.
After an alarm was raised, workers gathered safety gear, including four trolley foam extinguishers and attempted to put out the fire as they awaited the Guyana Fire Service.
An investigation has been launched.
Around the Web