Two armed bandits on Tuesday evening invaded a Chateau Margot, East Coast Demerara house during which they beat one of the occupants and held his daughter at gunpoint before escaping with a quantity of cash and other valuables.
The attack, which occurred about 20:30 hrs on Tuesday at Lot 4 C, Cross Street, Chateau Margot, saw 49-year-old Mohan Lall mercilessly beaten about his body. He also sustained a laceration to his head and was rushed to the Georgetown Public Hospital (GPH).
At the time of the ordeal which lasted for about 15 minutes, Mohan, his 24-year old daughter Salome Lall and his granddaughter were the only persons home. His wife and teenage son were attending a church service.
The bandits managed to escape with $105,000, US$617, two cell phones, a laptop and a gold ring belonging to Mohan.
An investigation has been launched, but up to press time last evening no one was taken into custody.
The Guyana Police Force said in a statement that the Lalls were sitting in the lower flat of their two-storey house, when the bandits entered through an open door and held them at gunpoint. "They took them to the upper flat and relieved them of their valuables, during which, one of the suspects inflicted a wound to Mohan's head with the scissors," the police said.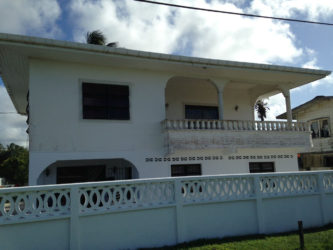 The bandits then locked the victims in a room and made good their escape, the release stated.
When this newspaper visited the family home yesterday, Mohan explained that they were watching television when they were attacked by the gunmen who walked through the front door which was open. "One of them put the gun to she [Salome] head and the other one start lash me," he said.
Mohan recalled the bandits saying "give we all the money or else we gon kill yuh". He said, in fear, Salome handed over $105,000. "She had some money and she give them and like they wasn't satisfy because they didn't leaving and they demand more," Mohan said.
The men took Mohan and Salome to the upper flat of the house where he handed over US$617. "They lock we in a room and run downstairs and I had a black bag with some watches and they ransack that and take what they want and get away", he said.
Mohan is of the belief that the men might have entered his premises by scaling the fence and escaped the same way. The man who recently resigned from a gas station where he worked as a pump attendant said he had the US currency stored at home since he was scheduled to travel overseas soon for a vacation.
He said the police were summoned and they arrived about half an hour after the incident. They later returned and took statements from the family.
Around the Web