The Giftland Mall, as part of its corporate social responsibility, has launched its 'Giftland Cares Sophia Project,' aimed at developing the community.
The project will see the commercial centre adopting and developing the community by providing it with basic reading and writing skills, job skills and apprenticeship, as well as health and dental care and improved sports facilities.
Sophia resident and representative of the project Colin Marks thanked Chief Executive Officer of the Giftland Mall Roy Beepat and his team for engaging the community on such a level, while pointing out that the investment by the company happens to be the single largest one made by a corporate entity in the Sophia catchment community.
"The project is set in three components where we will be doing personal development, sports and recreation and competency training and this is all well for our community because if you know Sophia, we are a mushroomed community and we need to build our capacity," Marks said.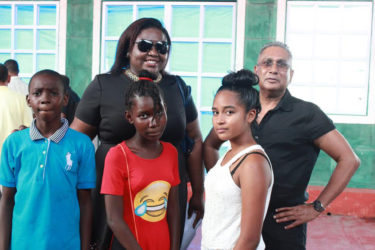 "This project is potentially one that can be a watershed project because when I checked what Giftland is attempting to do in our community, it's not a corporate hand out, but it's more or less a corporate lifeline," he added.
Meanwhile, Beepat explained that the project has been on the company's agenda for some time and that it entailed looking at the community, seeing what is needed and looking at ways in which assistance can be given.
"We believe if we give the youth a chance to be productive, most of them are going to take the chance and that's what we are hoping for," Beepat remarked.
In the meantime, the Giftland Mall will be having a 'Sophia Community Charity Raffle,' the proceeds of which will go towards the restoration of the Sophia Community Centre to "educate under privileged youths, teach vocation, and restore dignity and pride."
The winner of the raffle will receive a 58-inch Samsung Smart Full HD 1080P TV.
Around the Web