PPP/C Member of Parliament Anil Nandlall yesterday expressed concern that Henry Smith was sworn in as Mayor of Mabaruma despite a pending court ruling on whether or not he should be allowed to take up office.
Smith was one of nine mayors sworn in by President David Granger late last week at State House.
In a statement issued last evening, Nandlall, an attorney, said that the disregard for the rule of law, the constitution and the judicial process by the APNU+AFC coalition government continues with impunity and he called on the international community to take note.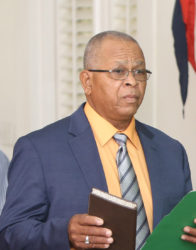 Nandlall reminded that APNU+AFC and the PPP tied in Mabaruma at the local government elections in March last year and instead of going back to the electorate for a vote, as is required by the law to break the tie, Minister of Communities Ronald Bulkan, "in violation of the law, unilaterally appointed Rupert Henry Smith as the Mayor."
Nandlall added that April 5, 2016, Justice Diana Insanally granted a number of orders, including one quashing the decision of Bulkan to appoint Smith, as well as one restraining Smith from preforming the functions of Mayor of the Municipality of Mabaruma.
The hearing of this matter, Nandlall said, was concluded before the then Chief Justice (ag) Yonette Cummings-Edwards and all parties are now awaiting the court's ruling.
He explained that the legal effect of order against Bulkan was that it was to stay his decision until the case is heard and determined, while the order against Smith has a similar legal effect.
"Notwithstanding, in clear violation of these Orders of the High Court and in absolute disregard of the judicial process, the President has chosen to swear-in Mr. Smith as the Mayor of the Municipality of Mabaruma," he said.
Apart from the contempt exhibited towards the judicial process and two Judges of the High Court, including the Chief Justice (Ag) who is now the Chancellor (Ag), Nandlall contended that every act performed by Smith as mayor would be unlawful and tainted with illegality.
Nandlall made it clear that the PPP and its councillors "do not and will not" regard Smith as the Mayor of Mabaruma.
Around the Web