A Number 55 Village, Corentyne, Berbice fisherman died yesterday, reportedly by drowning whilst on his way to assist a friend on whose boat there had been an explosion just moments before, at the Number 66 Corentyne wharf.
Bhairo Persaud, 42, of Lot 158 Number 55 Village, Corentyne was at the Number 66 Inshore Fishport Complex yesterday when one of his friends' fishing boat exploded at the wharf attached to the fishport complex.
Deonarine Harripersaud also known as 'Chona', 38, of Number 54 Village, Corentyne, whose boat Geeta exploded, said that around 11.45 am his workmen were in the process of filling gasoline into barrels on the boat to go out to sea in the afternoon to fish. However, fuel from one of the barrels overflowed into the boat.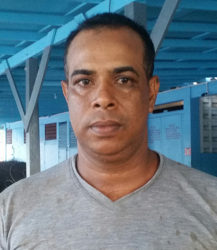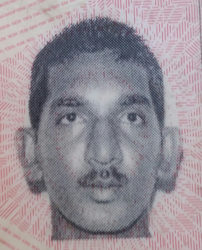 According to Harripersaud, the workmen did not realise that the gasoline had run all over the boat and one of them later lit the stove on board to cook dinner before heading out to sea. The boat then exploded.
He noted that the barrels were stored at the back of the boat, while the stove was at the front.
Upon seeing this Persaud, who was at the time slightly intoxicated, hurried to lend assistance, but slipped and fell into the water.
Harripersaud said there was a strong current at the same time and as such Persaud disappeared underwater.
The men, after searching for several hours, found Persaud's body in the water, tucked between boats at the wharf, not far from the destroyed boat.
Eyewitnesses said that Persaud's body bore no marks, however, he was bleeding from his mouth and nose.
Meanwhile, Persaud's wife, Bibi Farida Aron, 47, told Stabroek News, that Persaud had left home yesterday around 6 am to find a fishing boat to work on. She explained that the owner of the boat he was attached to had pulled that boat in for maintenance. Instead of waiting for the boat to be fixed, he ventured out to look for another boat.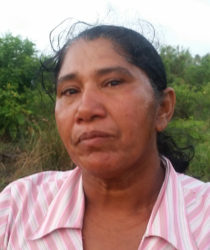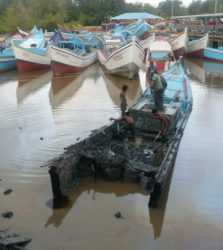 "He say me a go look one boat to go out with. Seven time he go out and na bring money because them na catch fish. Only Thursday he come in back with that boat," she related.
Persaud was the father of four children and Aron, in tears, noted that he was the sole provider for the family. "I will have to go look a work now to take care of my children," she said.
Persaud's youngest daughter, she said, had momentarily lost consciousness when she heard that her father had died. "She kiss he before he gone this morning. Me find $160 in he pocket like he did keep it to bring for she. Everytime he a give she hundred dolla. He a say mama come collect this and give she money. She love he bad," the distraught woman said.
Meanwhile, Harripersaud said nothing was saved from his boat. He thanked everyone who assisted him in putting out the fire. He was also grateful that the three of his five crew who were on the vessel at the time of the explosion, were uninjured. He said his boat had cost some $5 million and the five barrels filled with gasoline, which exploded amounted to some $325,000.
Around the Web