Scotiabank in collaboration with the Georgetown Chamber of Commerce and Industry (GCCI) has launched its third Vision Achiever LivePitch Business Plan competition for small business owners.
Deodat Indar, the President of GCCI, launched the competition on Monday and he said the GCCI was committed to the partnership with the commercial bank to ensure that there is a continuation of the sustainable programme, which focuses on micro and small businesses.
Indar noted that the GCCI has a strategy to assist small businesses in development, via training and other methods.
Meanwhile, Jennifer Cipriani, Marketing Manager of Scotiabank, who also expressed her excitement for the launch, noted that the competition has been evolving every year since it first started in 2015.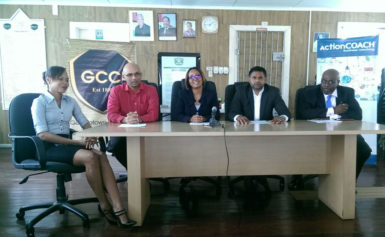 Cipriani said they have been working to make the competition more interesting. She noted that they started the competition with the aim of doing something for the small businesses, while acknowledging concerns that there are a lot of times when banks are not doing anything for or even supporting such businesses. "We might not be able to give them a loan because they would not qualify but this is one way of helping a small business to launch or to expand," she said.
She explained that the competition is for persons 18 years and above who have a business idea and want to act on it or those with an existing business that they want to take to the next level.
Those desirous of participating in the competition, Cipriani said, are required to submit a one-minute video pitch to her email address, which is Jennifer.cipriani@scotiabank.com.
Entrants must include their name, the name of business, the description of business, what problem the product or service is addressing, the financial viability of the business and the reason why persons should vote for the idea in their pitch.  April 21 is the deadline for submissions. The videos would then be posted to Scotiabank's Facebook page on April 28 for public voting until May 5.
The top three pitches will go to the finals, along with two wildcard picks by the judges. The five finalists would then be required to prepare a business plan using Scotiabank's free online Plan Writer Tool.
The winner and the runner-up would receive a $500,000 and a $250,000 start-up business account, respectively, at the bank. ActionCOACH will provide business training to the five finalists
Cipriani said that the winners would be announced during the week of September 18 to 22.
Also, speaking at the launching was the winner of the 2016 competition, Ria Bryan, who said she used it to market her product, which was the Privileged Clothing Brand. Bryan said she learned a lot from ActionCOACH, which taught her how to branch out and transform her brand. She added that the competition will push persons and take them to places they never knew they could go with their products.
Around the Web