The Community Policing Organization of Guyana (CPOG) has played an important role in curbing criminal activities having conducted over 20,000 patrols and effected 89 arrests last year, Minister of Public Security Khemraj Ramjattan said yesterday while calling on persons to join the voluntary organization.
"Community policing officers are better equipped to be the eyes and ears on ground and can help police with preliminary investigative work…They are the ones who know who are the 'bad Johns' in a community," Ramjattan said during a press conference to highlight the 41st anniversary of the CPOG.
Noting that community policing patrols are effective as they keep criminals at bay, Ramjattan said that such groupings create solidarity between members of the community and the police in that area.
Over the past few weeks there have been reports of robberies and gruesome crimes in Berbice. Asked if he was satisfied with the number of community policing members in this region, Ramjattan said that he was not satisfied with any region at this point.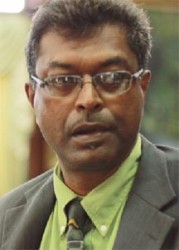 "I still believe lots more people ought to come onboard and be participants in this exercise," he said before agreeing that government may not be as aggressive as is necessary in its efforts to attract more people. He said there was no effort on the ground to persuade persons to join.
"It is a voluntary job. It requires patriotism…," he said adding that because the CPG required lots of night patrols, a lot of people feel that nights are for sleeping and not patrolling and as such persons decline the offer to join.
Ramjattan told reporters that community policing was important because of the nature of the crimes committed today and the fact that those living in the community are the "first responders.
"If every community is to have a very efficient kind of CPG we can have better response times, we can have better policing efforts and we can have qualitatively better and more efficient police work being done," he said.
Ramjattan said in a statement that this year's celebration under the theme 'Celebrating 41 years of partnership, supporting reform and development', commenced on April 1 with a church service and will conclude on May 27 with a women's conference.
He said that activities are planned in 16 police divisions with the main activities being celebrated in Corentyne, Berbice.
According to Ramjattan, the CPOG consists of 166 groups with a membership of 4,347. He later disclosed that the membership is almost on par with the number of ranks in the Guyana Police Force. The force has approximately 4,500 ranks.
He said that during the period January to December, 2016 the CPGs conducted 15,918 vehicular patrols, 5,729 motor cycle patrols, 1,521 bicycle patrols, 1,427 foot patrols, 857 boat patrols and 254 ATV patrols. Additionally there were 89 arrests ranging from murders to domestic violence.
He said that community policing members over the years have benefited from training in a numbers of areas including suicide prevention, first aid, conflict and anger management, trafficking in persons and domestic violence and this will continue.
Ramjattan said that during last year, the organization provided sports equipment for youth groups, sewing machines for Women's Groups and conducted training programmes for Liaison Officers, Rural Constables and members of Community Policing Groups in 16 divisions.
Around the Web