A 29-year-old Parika Façade mother of three was yesterday strangled and her husband who is the prime suspect is on the run
Dhanwantie Ram from Parika Façade, East Bank Essequibo, was avoiding her abusive husband since they had a fight on Friday. She was staying at her sister's residence along with her two children.
"Yesterday [Tuesday] afternoon he come and ask her to go back home but she keep refusing to go back home and yesterday [Tuesday night] he come back again and start pulling she to carry she home and she still didn't want to and I come out and holler on he and he go away," Latchmie Jailall, the dead woman's sister, related to Stabroek News yesterday.
She explained that sometime last Thursday, Ram and her husband, Ganesh Dhanraj, a 28-year-old farmer, got into an argument after he refused to take her to work. "She find she way to work and when she come back she see he drinking and they start fight again and she tek the two children and come by me and stay," the still-emotionally distraught woman said.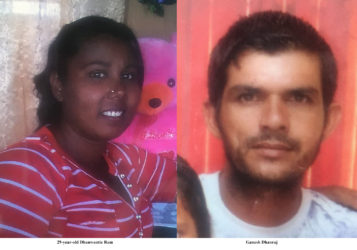 However, while they were able to have a peaceful day on Tuesday, things took a turn for the worse when she woke up yesterday and discovered that Dhanraj had removed everything from her house. Ram subsequently decided to lodge a complaint at the police station.
"She said she going to the station and I said alright I'll reach he and tell he to bring back the things and when I reach him he said he ain't business. When I was going back to me house she passed me and was going to the station," Jailall related.
However, according to information, while Ram was on her way to the police station, Dhanraj grabbed her on the road and forced her into the house.
After news of what had happened reached Ram's sister, she rushed to the house where her sister was being kept by her husband who refused to let her out.
"Me push the door and he push me out and lock the door.
She was crying and he didn't want she to come out and I call daddy and he tell me don't move but I know they does argue all the time and then they does settle down so I say let me go make some tea for them pickney," the woman said, lamenting her decision to leave her sister.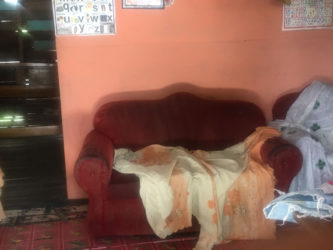 She said she didn't realize it was a mistake until her father called her again and told her to return to the house to ensure that everything was alright. Upon arriving at the house she said that it was locked tightly and not a sound was heard.
"When I go back the bottom door de open and the top lock and all the window lock. I run in and search the whole house and I didn't see she so I run out back and ask if anybody see she," Jailall said, stating that when she went back into the house she made the startling discovery of her sister's body bracing motionless on the couch under a cover of sheets that she had missed just minutes before.
"I run out and start scream and all the neighbours come round and I ask them to check and see if they see what I see," the woman said, as tears began to stream down her face.
After the discovery, the police were alerted and the body was taken to the Leonora Cottage Hospital where Ram was pronounced dead on arrival. According to information, she was strangled with a bedsheet.
Several minutes before discovering her sister's body, Jailall explained that the neighbours related to her that they saw Dhanraj running into the backlands.
Up to press time he had not been apprehended by the police.
Around the Web